Football games along the Wasatch Front are great opportunities to try on transit or maybe help a friend or family member get familiar with using UTA's services. Find out how best to get to and from the BYU's Lavell Edwards Stadium and share this with your favorite Cougar fans.
UVX
Utah Valley Express (UVX), or Route 830X, our latest bus rapid transit service runs almost door to door between the BYU stadium and FrontRunner. You can connect to UVX at FrontRunner Orem Central Station or FrontRunner Provo Central Station and get off UVX at the BYU Stadium stop. After the game, we encourage you head straight to Provo Central Station via UVX to ensure better connections to FrontRunner. UVX runs during the week and Saturdays. Most of Saturday — 7 a.m. to 11 p.m. — it runs every 15 minutes. In addition to direct connections and high-frequency, it's FREE! UVX is free due to a federal grant. This leg of your trip won't cost you anything.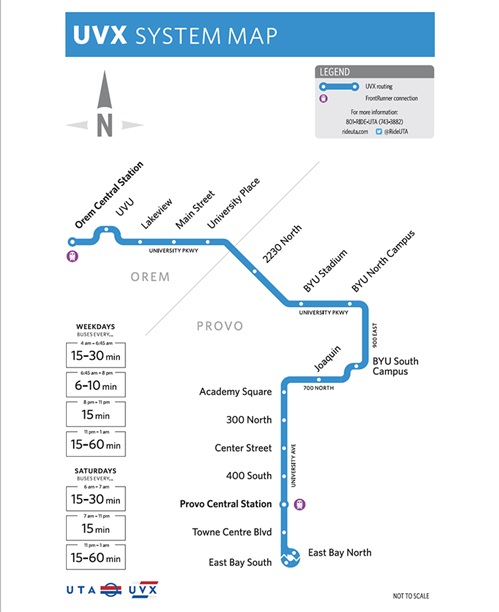 FrontRunner
FrontRunner, or Route 750, runs every hour on Saturdays. Be sure to purchase your fare before you board. FrontRunner fare is based off of the length of your trip. You can grab a fare at a Ticket Vending Machine at the station or on your phone using the UTA GoRide app. Cool thing about the app, you can buy your ticket in advance and activate it when you need it.
Stay Up to Date
To stay up to date on delays, changes, or any extra service for game days checkout @RideUTA on Twitter. You also have the Transit app to help you plan and our Customer Service at 801-RIDE-UTA.
Plan. Ride. Enjoy.