We want you, your friends and your family to stay safe while riding UTA services. To meet that goal, UTA is committed to safety education. Here are some tips everyone can follow, whether you are a UTA passenger, motorists and pedestrians.
Rail Safety
Never cross the tracks while the red lights are flashing or the crossing arms are moving.
Always watch for trains—look both ways before crossing the tracks.
Avoid dangerous distractions—when crossing the tracks be sure to take off your headphones and don't text or talk on the phone.
Don't bike or skate board on a station platform.
Stand behind the yellow line when trains are approaching the station platform.
Hold your smaller children's hands when on the platform and while boarding and exiting the train.
Never cross between train cars or across the trackway in an undesignated area—always use designated, safe crossings.
Motorist Safety
Never go around a lowered gate or try to outrun a train. Always wait for the train to pass, the gates to go up and lights to stop flashing before crossing the track.
Obey all traffic signals and signs. Many accidents occur when motorists run a red light or make an improper left turn in front of a train.
Bus Safety
Arrive at your bus stop five minutes earlier than the scheduled bus departure time.
Wait until the bus comes to a complete stop and the doors open before trying to board.
Sit in available seating when riding the bus. If you must stand, use the handrails and overhead straps to help maintain your balance.
Never stand or sit in the stairwells inside the bus.
While the bus is in motion, stay behind the white line located at the front of the bus.
Obey all instructions given by the bus operator and police officers.
When the bus pulls up to your stop, remain seated until the bus comes to a complete stop.
After exiting the bus, never cross directly in front of it. Wait until the bus leaves the stop before crossing the street.
Pedestrian Safety
Only cross the street or train tracks at designated crossings. While jaywalking may get be faster, drivers are not expecting you to cross the middle of the block.
When possible, cross the street at a designated crosswalk. Always stop and look left, right, and left again before crossing. If a parked vehicle is blocking the view of the street, stop at the edge line of the vehicle and look around it before entering the street.
Increase visibility at night by carrying a flashlight when walking and by wearing retro-reflective clothing that helps to highlight body movements.
It is much safer to walk on a sidewalk, but if you must walk in the street, walk facing traffic.
Report a Safety Concern or Crime
See Something? Say Something! If you see a safety concern, crime or another matter you feel needs an immediate UTA Police response, please report it:
Call 9-1-1—if there is an emergency, it is best to call 9-1-1
Call UTA Police Dispatch—to reach UTA Police by phone, call 801-287-3937 (801-287-EYES)
Text us—send text messages to UTA police at 274-637 (CRIMES). Start your message with UTATIP and then include your message.
If your concern is not urgent, you can report them through this website by clicking on a link below:
Safety Video
Operation Lifesaver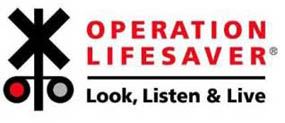 UTA partners with Operation Lifesaver in giving rail safety presentations to elementary, junior high and high school classes and other organizations. If you would like to request a safety presentation, or learn more about Operation Lifesaver, please email Sheldon Shaw at sshaw@rideuta.com.
To learn more about Operation Lifesaver, click here.