APPLY FOR THE UTA REDUCED FARE FAREPAY CARD TODAY!
The UTA Reduced Fare FAREPAY Card provides a 50% discount off the public fare to all qualifying seniors, youth, persons with disabilities, and individuals who qualify based on income. The discount includes Bus, TRAX, FrontRunner, S-Line streetcar, UTA On Demand, Ski Service and PC-SLC Connect.

Benefits of the Reduced Fare FAREPAY Card:
50% Discount off regular fare
Card loss/damage protection (if registered)*
Card theft protection (if registered)*
Easily managed online, at UTA Customer Service locations, or at participating retailers.
No card fees
*Some benefits apply to registered cards only.
WHO QUALIFIES?
| APPLICATION TYPE | FARE DISCOUNT | ELIGIBILITY | EXPIRATION PERDIOD |
| --- | --- | --- | --- |
| Youth | 50% | Ages 6 - 18 | 5 Years or 19th birthday |
| Senior | 50% | Ages 65+ | 5 years from application date |
| Persons with Disabilities | 50% | Medicare or Healthcare Professional verification | 5 years from application date |
| Low-income | 50% | Member of a participating program* or income level 150% or less of federal poverty guidelines | 1 year from application date |
HOW TO APPLY?
Apply Online (Chrome & Safari are the preferred browser):
Verify identification and eligibility. Click here for more info
Receive your new Reduced Fare Card
*All applicants must fill out the application in order to qualify to take advantage of the Reduced Fare FAREPAY Card. All aboard!
**The Reduced Fare FAREPAY Card may be shown to the operator and the customer may pay a reduced fare using cash.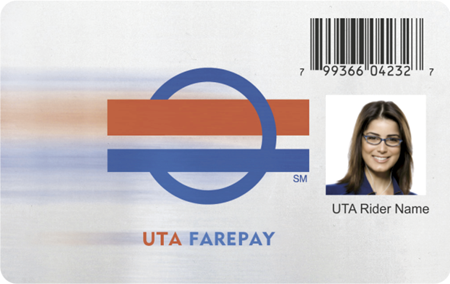 Once a completed application has been submitted and approved, the Reduced FAREPAY Card will be issued, complete with the applicant's photo.

How to Use Your New Card
Activate your card and create a web account at farepay.rideuta.com and add your card to the account for loss and theft protection as well as for convenient account management. You can add funds to your account here.
Tap card on card reader when boarding, exiting or transferring between UTA bus, TRAX, FrontRunner, Ski Service and PC-SLC Connect and street car services. When transferring between TRAX lines (i.e. Blue Line to Red Line), only tap card at first and last stations. Card readers are located inside buses near doors and at UTA rail stations.
Remember to tap off your card so that you get charged the correct amount. If you forget to tap off you will be charged for the maximum FrontRunner trip (50% of max fare).
Use card for fare payment only after activation and when card reader has given green light. If card reader gives red light, card is not valid for fare payment and another form of payment is required.
Present card to UTA police when asked to present proof of fare.
For additional questions or for help filling out an application, please contact customer service at (801) RIDE-UTA (801-743-3882) or at rideuta@rideuta.com.
How to Ride