Project Overview
When TRAX made its debut in 1999, a fleet of Siemens SD100 light rail vehicles began transporting thousands of Utahns along the Wasatch Front each day. As UTA's light rail service grew, UTA added 17 Siemens SD160 light rail vehicles. UTA is in the midst of an extensive overhaul program designed to sustain the life of both the SD 100 and SD 160 vehicles as required by the Federal Transit Administration. This will enable UTA to safely operate the fleets up to its projected 30-year lifespan.
Establishing an overhaul program is an industry-best practice that will significantly impact most of the vehicles' systems and components for the purpose of improving safety, efficiency and passenger comfort.
To begin the project, UTA evaluated every system in each fleet to determine the appropriate time and cost for overhauling/replacing components. Whenever possible, UTA will perform the work in-house enabling us to create several full time positions to compete the overhaul. Developing the employees skill set enables UTA to build a solid foundation for future long term maintenance needs. UTA has also set up specific maintenance shops for overhaul implementation. These shops will help sustain our light rail fleet throughout its useful life.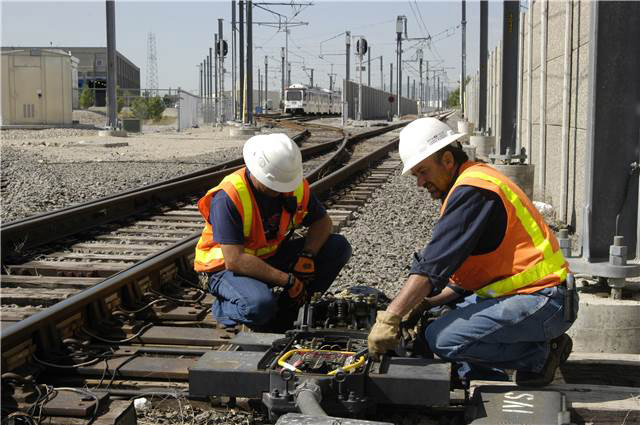 The Program
The overhaul process includes:
System evaluation and work scheduling, conducted by UTA's Capital Development and Rail Fleet Sustainability teams
System rebuild/replacement procedure development, conducted by the Rail Technical Services team
Parts procurement, undertaken by the Supply Chain and Parts teams
System rebuild, conducted by the Fleet Sustainability team
Installation of system/parts, conducted by our Rail Maintenance Department
System project close out, conducted by the Capital Development office
Some items to be overhauled in 2017 include couplers, pantographs, brakes, HVAC, and the vehicles' traction motors and propulsion systems. UTA will also add cameras to the fleets to improve safety and security.
One of the long term goals of the program is the ability to run mixed fleets. This improvement will eliminate the high block loading platforms and make it easier for customers to board the train.
Safety, reliability, efficiency and passenger comfort have always been key to the UTA mission. The overhaul program is just another example of UTA providing world class transportation to the customers we serve.