October 3 - November 14: TRAX Station Construction - 600 S. Main Street
TRAX Sunday Service Delays

UTA is building a new station on Main Street at 650 South. This will result in single-track service for Red and Blue Line riders, and a TRAX bridge for Green Line riders. Please use the following information to plan your trip:

Dates:
October 3 (Sunday)
October 24 (Sunday)
November 7 (Sunday)
November 14 (Sunday)
Service:
Blue Line:

single-track between Courthouse and Gallivan Plaza stations.

Red Line:

single-track between Courthouse and Library stations. Trains will arrive 5 minutes earlier than scheduled throughout the day.

Green Line:

transfer to the Blue line to travel between Ballpark and Gallivan Plaza stations, then board back onto the Green Line to reach your final destination.
Delays:
Train Schedule:
Construction Alerts:
Utah Transit Authority and Salt Lake City are partnering to construct a new TRAX station near the intersection of 600 South and Main Street. Part of the long-term plan for light rail, this station will provide access to a rapidly developing part of the city. Construction work is underway, with the station expected to open for service in early 2022.

Residents can expect day and night work activities with noise, dust, vibration, and nighttime lighting. Lane closures will take place at various times throughout the project. Visit this page to receive construction updates. Sign up to receive email updates at constructionuta@gmail.com or call 1-833-UTA-WORK with any questions.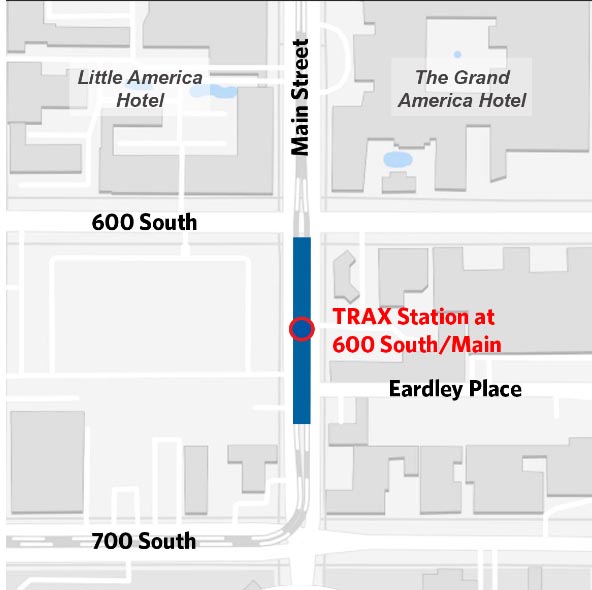 TRAX 700 S Catenary Replacement
UTA is replacing 20-year-old catenary electrical lines at 700 South and Main Street, as well as connecting the 650 South station into the TRAX system. This will result in some delays on the Red, Blue and Green TRAX lines. Please use the following details to plan your trip:

Dates:
November 6-7
November 13-14
Bus Bridge:
Blue & Green Line: Ballpark to Gallivan Plaza Station
Red Line: Ballpark to Library Station
Expected Rider Delays:
Regular Service Resumes:
November 8-12
November 15
TRAX Schedules:
Blue Line: www.rideuta.com/blueline
Green Line: www.rideuta.com/greenline
Red Line: www.rideuta.com/redline
Construction Alerts: