The snow is the same.
The Ski Bus isn't.
Here's what you can do to stay safe.
Stay Safe this Ski Season
The ski season is almost here, and we know you're excited to get out of the house to enjoy the outdoors and Utah's amazing ski resorts. UTA's priority during the COVID-19 pandemic has always been the safety of our riders and employees, so we will be implementing additional safety measures for Ski Bus service to help you stay safe all season long.

These efforts include limiting the number of riders per bus, enforcing mask wearing at all times, and creating socially distanced lines at key bus stops. With these safety measures in place, riders should expect greater delays getting to the resorts. Things might be a little different this season, but you'll still be able to hit the slopes and enjoy the greatest snow on earth.

Many of the ski resorts are also implementing safety measures such as social distancing their parking, creating reservation systems and discouraging carpooling.

UTA's efforts to ensure your safety on the Ski Bus include the following:
Here is how you can help:

We expect greater delays due to these safety measures and an increase in canyon traffic. To help, we will be monitoring ridership daily and working with the ski resorts to get riders to and from the resorts as effectively as possible. Plan ahead and take advantage of our recommended low peak days, times, routes and parking below to minimize those delays. So, while the way you get to the slopes might have changed, we're confident that you're going to have just as much fun as always once you arrive.

Before you leave, download the transit app (Click Here) to plan your trip; check bus crowds; or get alerts on canyon closures, accidents or avalanches.

We'll see you on the Ski Bus!
BIG AND LITTLE COTTONWOOD CANYONS
Snowbird, Alta, Brighton & Solitude

On November 29, 2020, UTA's Cottonwood Canyon ski bus will start service to Alta, Brighton, Snowbird and Solitude ski resorts. To minimize delays, please consider the following recommended off-peak days, times and locations to ride the Ski Bus:
Best Days of the Week to Avoid Crowds:
Best Times of Day to Avoid Crowds:
Best Park and Ride Lots:
Midvale Ft Union Station, 7250 South 180 West
950 E 6600 S
6200 S. Wasatch Blvd

Midvale Ft Union Station, 7250 South 180 West. (Route 953)
6200 South Wasatch Blvd

Historic Sandy Station, 9000 South 165 East.
9400 South Highland Drive
FREE UTA Services included with the season pass:
Alta: Bus, Ski Bus, TRAX, FrontRunner, VIA
Brighton: Bus, Ski Bus, TRAX, FrontRunner, VIA
Solitude: Ski Bus only
Snowbird: Ski Bus only
IKON: Ski Bus only
*Season Pass Holders: Contact the ski resort for additional questions about valid services
**IKON Pass Holders: Contact Solitude for additional questions about valid services
***Ski Resort Employees: Contact your employer for additional questions about valid services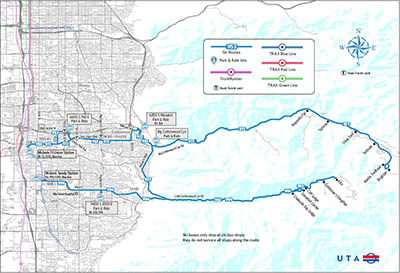 WEBER AND DAVIS COUNTY
Snowbasin and Powder Mountain

On December 12, 2020, Snowbasin started its ski bus service. Powder Mountain ski bus service opened on December 19. Ski Bus service to Powder Mountain will begin when the resort opens. We will notify riders as soon as that information becomes available. Please use the recommended off-peak days, times and locations to ride the ski bus:
Best Days of the Week to Avoid Crowds:
Tuesday, Wednesday and Thursday
Avoid holidays and weekends
Best Times of Day to Avoid Crowds:
Best Park and Ride Lots:
Ogden Transit Center, 2350 Wall Ave
Rainbow Gardens, 1851 Valley Dr.

Ogden Transit Center, 2350 Wall Ave
Rainbow Gardens, 1851 Valley Dr.

Antelope Drive, 2280 N Hobbs Creek Dr.
Layton Hills Mall, 1201 N. Hill Field Road
FREE UTA Services included with the season pass:
Powder Mountain: Bus, Ski Bus
Snowbasin: Bus, Ski Bus
*Season Pass Holders: Contact the ski resort for additional questions about valid services
**Ski Resort Employees: Contact your employer for additional questions about valid services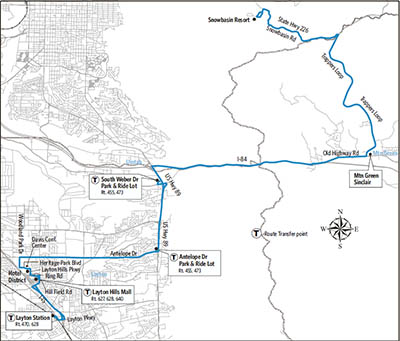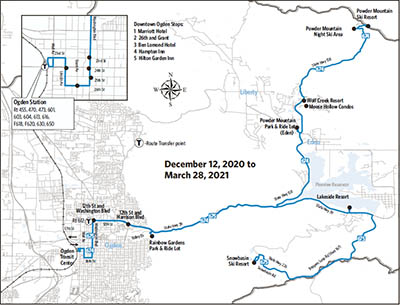 UTAH COUNTY
Sundance Ski Resort

On December 19, 2020, UTA's Utah County ski bus will start service to Sundance Ski Resort. Please use the recommended off-peak days, times and locations to ride the ski bus:
Best Days of the Week to Avoid Crowds:
Monday-Thursday (Jan. - Feb.)
Avoid holidays and weekends
Best Times of Day to Avoid Crowds:
Best Park and Ride Lots:
Palisade Park, 1376 East 850 North, Orem
FREE UTA Services included with the season pass:
*Season Pass Holders: Contact the ski resort for additional questions about valid services
**Ski Resort Employees: Contact your employer for additional questions about valid services