Ride UTA, then bike to get to your final destination!
Many people ride UTA and their bike to work, school, stores or other places every day and you can too! Hop on your bike, get to your nearest stop (bus, TRAX or FrontRunner) and ride UTA. Get your heart pumping and help improve the air quality by keeping your car parked and getting where you need to go. Combine the benefits of biking with the convenience of UTA!
Using bike racks on buses and trains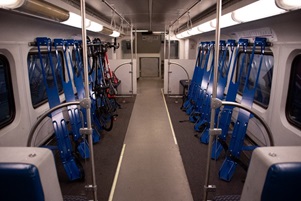 At UTA, we are always looking for ways we can improve our riders' experiences. One of these ways is by making improvements to our services and facilities. To that end, we are piloting a new bike rack in one of our FrontRunner cars so that riders can try it out and give us their feedback.

This new bike rack stores bikes vertically rather than horizontally. Here's how to secure your bike:
Wheel your bike up so the front tire fits into the top slot.
Secure the front tire.
Secure the black belt through the frame and the back tire.
Let us know what you think by taking our bike rack survey.



It is very easy to use the bike racks on UTA! Hundreds of people every day take their bikes on the UTA system. All buses are equipped with bike racks. We have racks on many of our train cars as well. On TRAX and FrontRunner there are several ways to secure your bike. Train cars equipped with bike racks have a bicycle icon near the door of the cars with bike racks. Watch these videos to learn more.


Rent a UTA Bike Locker
You may need to find a place to store your bike near a UTA TRAX or FrontRunner stop. UTA has many locations where you can store your bike near a UTA train stop. We give you the locker and the lock and you can store your bike conveniently. To learn how you can rent a bike locker, click here.
BikeLink E-Lockers
At select UTA locations, UTA has partnered with BikeLink to offer electronic bike lockers.  You pay by the hour (the fee us usually $0.05 per hour).  It's a lot like a parking meter for your bike, but you can keep the bike in the locker an unlimited amount of time.  All you need to do is get a BikeLink card, load it up, then use the card to park your bike.  To learn more, click here.
Here are the BikeLink E-Locker locations at UTA stations:
Provo Intermodal Center - W 600 S and S Freedom Blvd
Draper FrontRunner Station - 12997 South FrontRunner Blvd
Murray Central Station - 5100 South & Cottonwood Street
Salt Lake Central Station - 300 South & 600 West
University of Utah Stadium TRAX Station - 450 South University Street
Ogden FrontRunner Station - 2393 Wall Ave South
GREENbike
UTA is a proud partner with GREENbike. GREENbike is Salt Lake City's non-profit bike share program. When you get to downtown Salt Lake City, look for a GREENbike bike share station.  Bikes can be rented by the hour or all day. It's a great way to get around town! Many GREENbike stations are located near UTA stops including Salt Lake Central.  To learn more about GREENbike, click here.