Forty-seven years ago, a group of parents got together with a common goal: to provide ways for their adult children with intellectual and developmental disabilities to lead fuller lives. TURN Community Services was organized thanks to these dedicated parents, and has continues to serve this part of our community since 1973.

In February 2012, a new branch of TURN was founded, dedicated to helping TURN participants express themselves artistically. Katie Johnson, the director of Art and Educational Day Services in Salt Lake City, works with participants who pursue projects in writing, painting, dancing and music during their time at the program.

TURN is dedicated to helping adults with special needs thrive, and their artistic pursuits are an essential part of that mission. People with a variety of special needs attend the programs. "We have participants who have autism, Down syndrome, or any sort of physical limitation. Some will create artwork with the paintbrushes in their mouths, for example," continues Katie.

TURN Art and Educational Day Services was one of the first of its kind. "When we opened, there were only about thirteen similar programs like us in the entire country. Since our opening, I think that other groups have seen the need for programs like ours, and more have popped up throughout the country and the state," says Katie.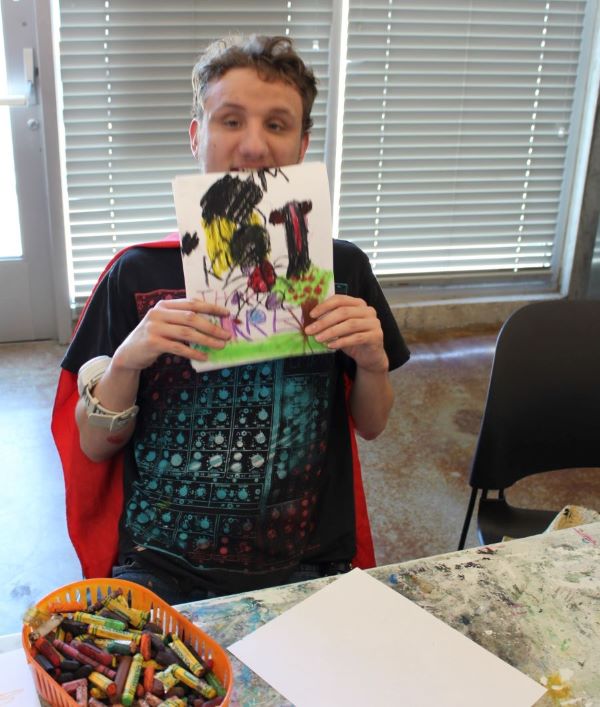 UTA All the Way
In their downtown Salt Lake City location, TURN is perfectly located for participants attend by using UTA. They are right across the street from the Old Greek Town TRAX Station, and very close to several bus lines and the FrontRunner Station. Katie says that this allows their program participants to be very independent.

"A lot of our participants will come on Paratransit here, and some take TRAX or the bus. Their care providers can train them on a specific route, and this allows them to come and go as they please. We have one participant that doesn't always want to stay the whole day when he comes, and he is able to leave at his leisure because we are so close to the TRAX station. It's a huge resource for our participants."

Earlier this month Nina Falsone, a UTA rider and TURN participant, was recently recognized when she received the "I Ride UTA" award. This quarterly award recognizes riders with a disability who achieve independence through using UTA services. She's an outstanding example of how UTA and TURN can work together to help individuals live a more fuller life.

"One of our favorite things to do is ride TRAX to the Gallivan Plaza Lunch Bunch Series in the summer. It's somewhat far away from our organization, so it's nice to take the train out there, enjoy the music and art together, and then get back easily."

TURN participants support UTA in more ways that just riding the system. Last year at UTA's annual ADA celebration, TURN participants donated art they created for UTA award recipients. The award recipients appreciated the talented artists and found their art and donation especially meaningful.

Whether it's support for awards ceremonies, field trips, or artistic expression, TURN Community Services is one of the most supportive and inviting organizations for people with developmental disabilities in our state.

Learn more about TURN.
About the Author
Samantha Aramburu currently works as the Community Relations Specialist at UTA. She is a graduate of BYU with a B.A. English and an almost-graduate of the University of Utah with an M.P.A. Reading is kind of her thing, as are most dogs.