This week UTA's Committee on Accessible Transportation (CAT) celebrated staff and riders that help make transit work for everyone with it's quarterly "I Ride UTA" and and the "I Am UTA" awards.
I Ride UTA
The "I Ride UTA" award is presented to individuals with disabilities who choose to use UTA's accessible fixed route bus and rail services, Paratransit, and Flex Routes as their opportunity to achieve independence through integrated public transit.

Rider Nina Falsone received the "I Ride UTA" award. Her use of transit would not have been possible without the assistance she has received along the way from employees in Paratransit Services - starting with the Paratransit Mobility Center, Call Center Specialists, Dispatchers, Bus Operators, and Paratransit Customer Support Coordinators. This has been a collaborative effort. Nina is a caring, friendly, talkative, creative and witty, young women. She was diagnosed with Cerebral Palsy as a baby and she has no balance and uses leg braces and a walker for mobility. Nina's Cerebral Palsy includes cognitive and developmental challenges. With the initial help of specialists in the Paratransit Call Center, Nina can now schedule trips on her own.

While Nina's trip planning is supervised, the ability to do more for herself, scheduling, riding alone, and choosing where to go, gives Nina a sense of accomplishment and empowerment. Most recently, Paratransit Services enacted a call out system to notify riders five minutes out from their scheduled pick-up. Riders need to opt in to the system and Nina's mom "encouraged" her to make the call herself to enroll. It took a several tries but with the helpful prompts from Paratransit Scheduling, Nina is now enrolled. She enjoys being able to wait inside her apartment, out of the weather, and the extra time allows her to not to be as rushed.

Being able to access her amazing community gives Nina a sense of awe, belonging, and lots to talk about. Independence looks different to different people but it is achievable. It is a collaborative effort. Nina agrees that her independence, ability to access her community and do more for herself would not be possible without her UTA Paratransit Team.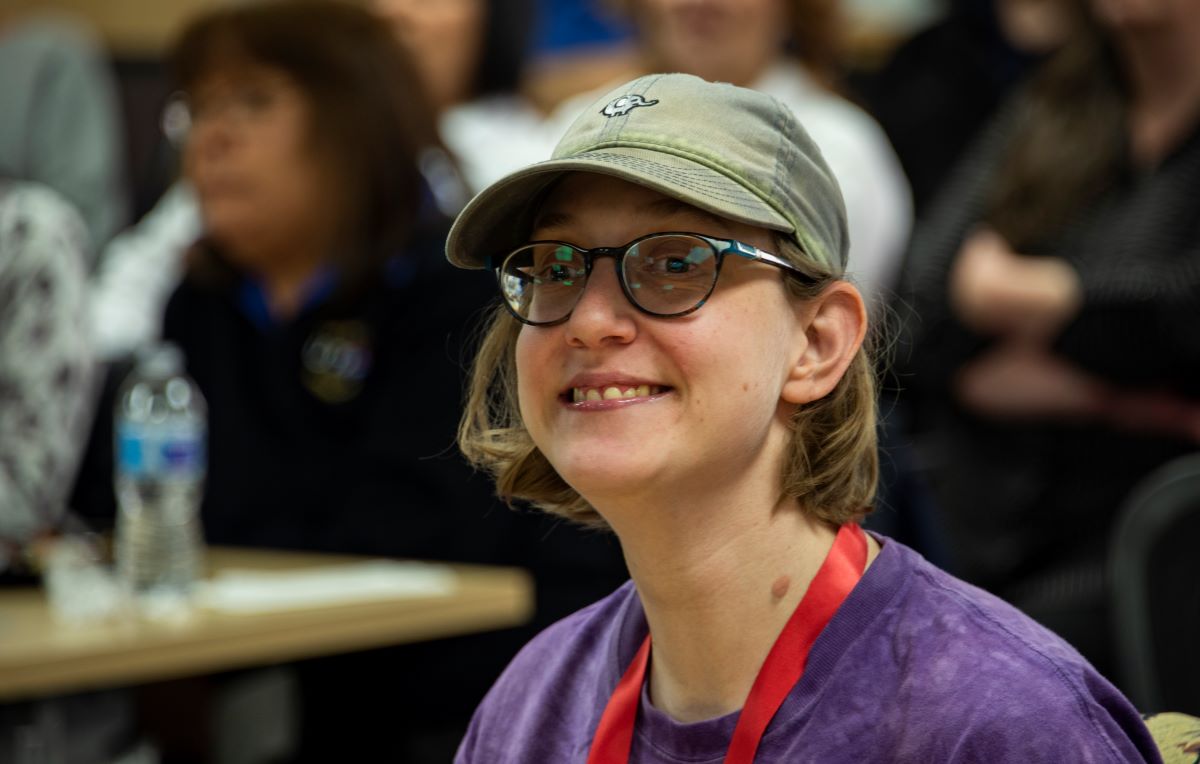 I Am UTA
The "I Am UTA" award recognizes UTA employees who provide service above and beyond what is expected of them to people with disabilities.

On August 17, 2019, UTA Officer Gaines responded to a welfare check of a man at the Lehi FrontRunner Station, where he encountered a man who had some mental health issues. The man had defecated in his clothing and was distraught. Craig allowed him into the employee restroom to clean himself. While doing so, Craig went to the local Walmart and purchased some clothing and undergarments at his own expense for the man to wear. He did this so the man could have clean clothes to change into and would be comfortable riding FrontRunner. This truly exemplifies the goodness and kindness that all our officers strive to obtain every day.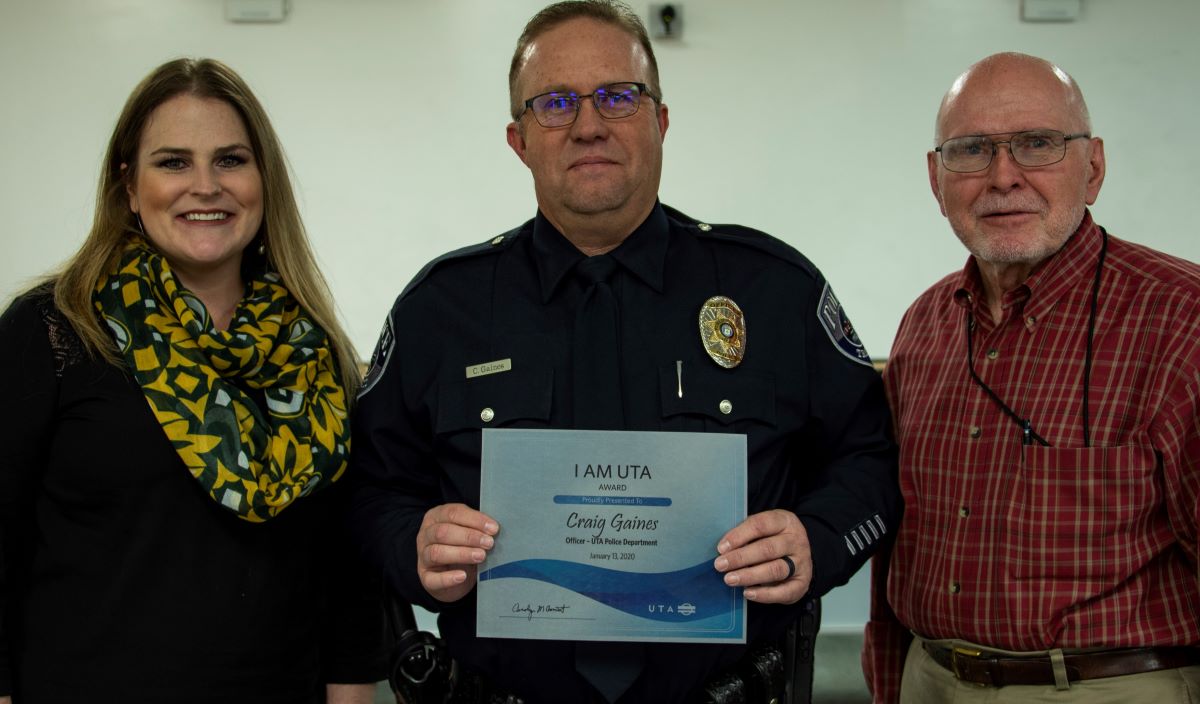 Ruben Espinoza has been exceptional in all customer service expectations and this is not a one-time occurrence. A comment was left by a rider's wife about Ruben's service. Her husband is legally blind and rides the TRAX Blue Line to work several days a week, with his guide dog, Austin. He gets on the TRAX in Draper around 5:40 a.m. This morning the TRAX operator took time to let her husband know of some TRAX issues that would affect his stop and gave him some options for alternate routes. She was very appreciative of the kindness and consideration Ruben showed her husband.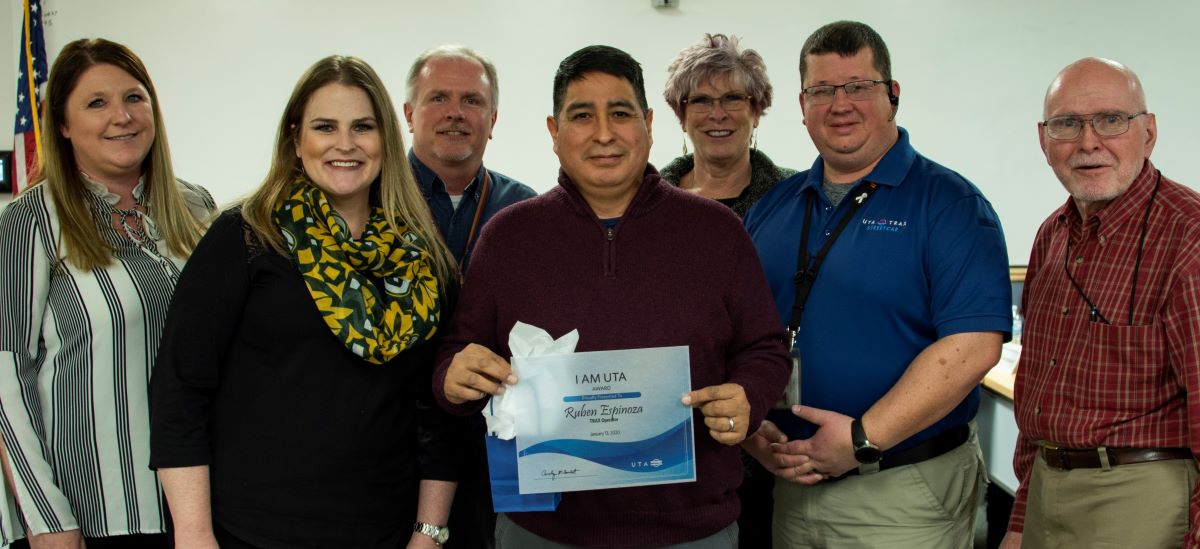 Ronald Jacox is the operator of the Route 455 and received kudos from a customer who boarded the bus at Farmington going to Ogden. The customer noticed that Ron was amazing with other riders. He was making sure to get the closest to their desired stops as it was a cold and nasty day, and made it so they didn't have to walk so far.




UTA recently developed the Customer Experience department. It includes three people dedicated to constantly improving the customer experience: GJ LaBonty (manager), Leo Masic and Marci Warren. They love what they do and are true advocates for UTA's customers. Their dedication touches many of UTA's realms, but they always stay in close contact with the Civil Rights team, the CAT Committee and riders with disabilities. They listen closely to their needs and suggestions and incorporates them into the UTA system, making the rider experience better for everyone. One excellent example of the work they do, was the consideration and implementation of the new bus stop posts, designed to be recognizable to individuals with visual impairments.




Paratransit Services also received the "I am UTA" award for their incredible care of Nina, other riders with disablities and for making improvements like the new notification system.



If you notice a rider or UTA employee that has gone above and beyond to make transit work for all of us, take a moment to nominate them for the "I Ride UTA" award or the "I am UTA" award. Find out more about CAT and the awards.