Mobility-as-a-Service (MaaS)
Mobility-as-a-Service gives people the ability to seamlessly plan and pay individually or through a subscription service, for a trip from point A to point B using a combination of public and private transportation services. MaaS can include many types of mobility options such as transit, bike sharing, on-demand rides (Lyft, Uber), carpools, car sharing, electric scooters, and more. The key to MaaS is making it as flexible and reliable as owning a car.

UTA is exploring the potential for a MaaS pilot in Salt Lake City. We believe that MaaS can help increase transit ridership and provide more accessible and affordable transportation to the community.

UTA Pilot Projects

Autonomous Vehicle Pilot Project (AV)
Autonomous vehicles, or AVs, use technology to sense the surroundings and navigate without human input. Radar, lidar, GPS and sensors are some of the technologies AVs use to "see" what's ahead, behind, and next to them on local streets and highways. AV technology typically goes hand-in-hand with other innovations, such as electric vehicles and connected vehicle technology.

This technology improves mobility and offers great opportunities to fill the first mile/last mile gap between transit stops and riders' destinations. UTA is partnering with the Utah Department of Transportation on an Autonomous Vehicle Pilot Project to explore how AVs can be used along the Wasatch Front and how it could transform the transit and transportation in Utah. Visit www.avshuttleutah.com for more pilot details and where you can ride.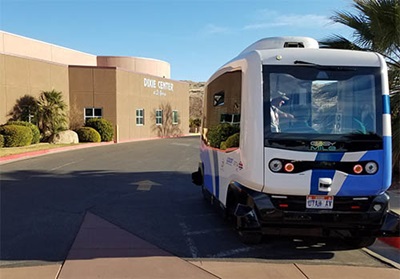 Mobility-on-Demand (MOD)
Mobility-on-Demand, also known as microtransit services, help connect less populous or remote communities by using smaller vehicles and operating on flexible routes. These dynamic routes can offer flexible schedules, on-demand service, and integrated trip finding and payment services.

UTA launched a microtransit pilot in the fall 2019 in southern Salt Lake County to meet first mile/last mile needs, link popular locations, and connect rail stations with businesses and homes. Visit www.rideuta.com/Services/UTA-on-Demand-by-Via for more detail on the pilot.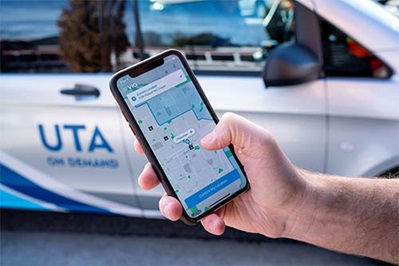 For more information about UTA's Office of Innovative Mobility Solutions, please email imsinfo@rideuta.com or call Jaron Robertson at (801) 287-2161 or Shaina Quinn at (801) 287-2066.