On March 3, 2020 we mark 50 years of Utah Transit Authority (UTA). We're excited to take this year to look back, look forward and extend our appreciation to all the elected officials, community leaders, Wasatch Front residents and our riders who have helped make UTA what it is today.

It all started when UTA was incorporated on March 3, 1970 and began service with a few dozen 20-year-old buses and a small operations center located under a freeway viaduct in downtown Salt Lake City. Since then, UTA has grown by leaps and bounds. It couldn't have happened without the support of political and community leaders over the decades who had a vision for how transit could improve the quality of life throughout Utah. We're proud to have grown with the community— supporting mobility, opportunity, and economic vitality for our neighborhoods over the past five decades.




Today, UTA riders take more than 44 million trips every year, across six counties and throughout more than 80 cities - making us one of the geographically-large transit agencies in the country. We are a fully multi-modal system, carrying Utahns by bus, bus rapid transit (BRT), light rail, commuter rail, streetcar, paratransit, vanpool, and rideshare services.

We've adapted our bus fleet to include hybrid, compressed natural gas, and fully electric vehicles, as well as historically inspired trolley buses. Riders can use their mobile phone to plan their trip, track their bus and pay their fare. We're currently researching new transportation technologies, such as autonomous vehicles and on-demand microtransit services. The future is always changing what's possible, and we're proud to be pioneering the way we move in Utah.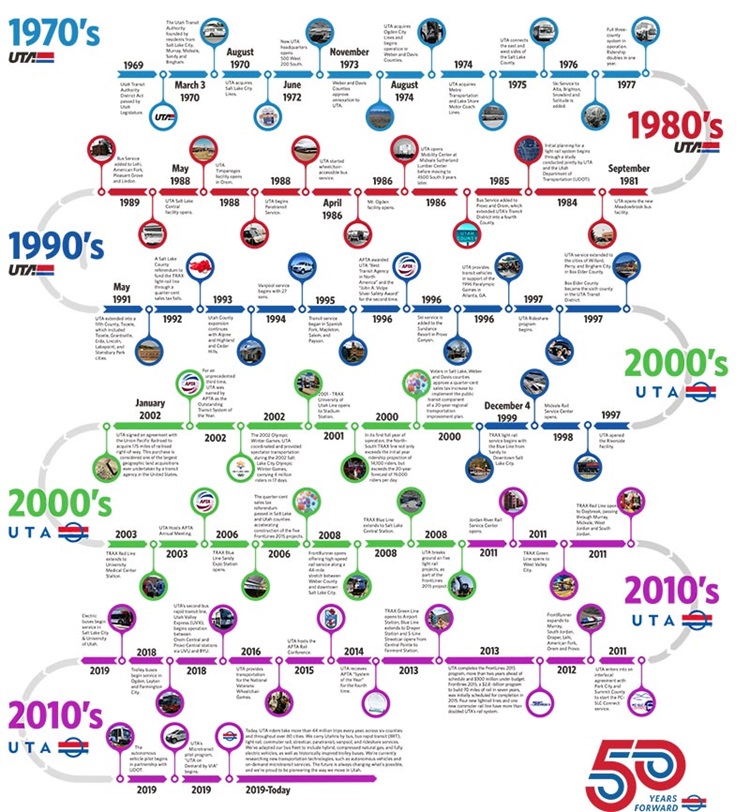 We also couldn't have achieved this miletsone without our employees. For five decades, UTA's passion has been rooted in helping Utahns get where they're going efficiently and safely. That hasn't changed. Our nearly 2,700 employees take great pride in providing reliable, efficient and friendly service. We want to contributing to Utah's enviable quality of life by providing mobility, improving air quality and supporting economic development. We are here to help prepare the way for future generations.
Join Us
Throughout the year we will be sharing stories of our past and highlights of things to come. We'll also be doing monthly rider appreciation events and offer other fun ways to connect to UTA and learn more about it's history.

It's going to be a big year! Stay tuned and keep riding!