UTA Board of Trustees has adopted the proposed changes to the UTA Fare Structure. These changes will go into effect on December 1, 2020. The goal of the changes was to simplify and streamline the fare structure to make it easier for the public to understand. The adopted changes are as follows:

The public fare changes at UTA will:
Simplify and streamline the overall public fare structure.
Apply consistent multipliers to the base fare to simplify how the pricing of other public fares and passes are determined.
Streamline the public fare structure by creating a single fare for all premium bus services.
Change current discount structures to align with other discount levels.
Eliminate some fare products for simplification.
Fare Changes: simplifying the fare structure by applying consistent multipliers to the base fare to set pricing for premium fares and passes.
Base Fare: The Base Fare is the amount charged for a base adult one-way fare. The base fare is currently $2.50 and is not changing.
Premium Bus Services: to now include Express Bus and Ski Bus.

Premium Bus Services to be consistently priced at two times the base fare = $5.00 (or 2 X $2.50).
Premium bus passes are not eligible on PC-SLC Connect service.

Monthly and Day Pass Fares:

Regular Monthly Fare (Bus & TRAX) = $2.50 x 34 trips
Premium Monthly Fare (Bus, TRAX, & FrontRunner) = $5.00 X 34 trips
Day Pass Fare = $2.50 X 2
Summary of Changes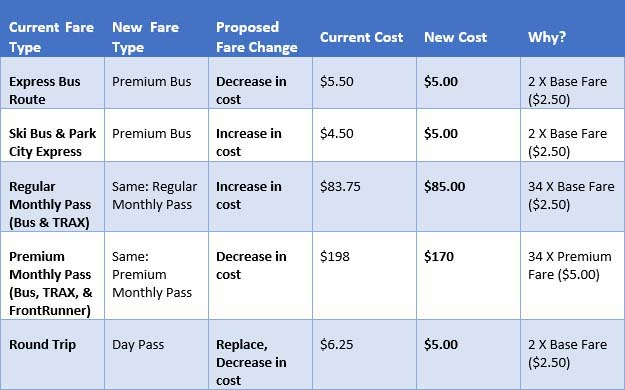 Adopted Changes to Discounts: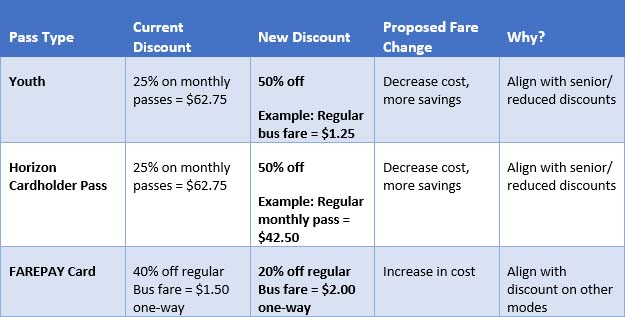 Adopted Fare Product Elimination: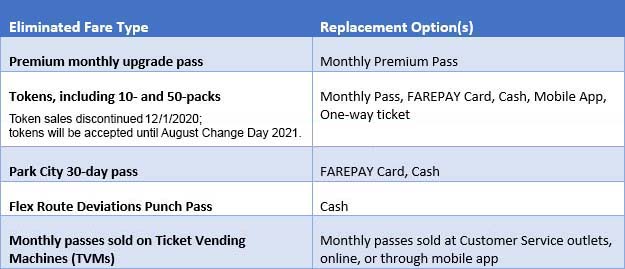 Community Engagement Summary on Proposed Fare Changes
In July, 2020 UTA proposed changes to fares. We asked you to give us your feedback and you did!

We took feedback via email, mail, online at OpenUTA, phone, and in-person at Customer Service locations, and promoted the feedback opportunities through newspapers, online media such as social media, in-person information, and through partner organizations.

We heard from 120 of you and the comments addressed many of the proposed changes from monthly and day passes, to express and premium services, to discounts and FAREPAY cards.

Here is a summary of the comments collected.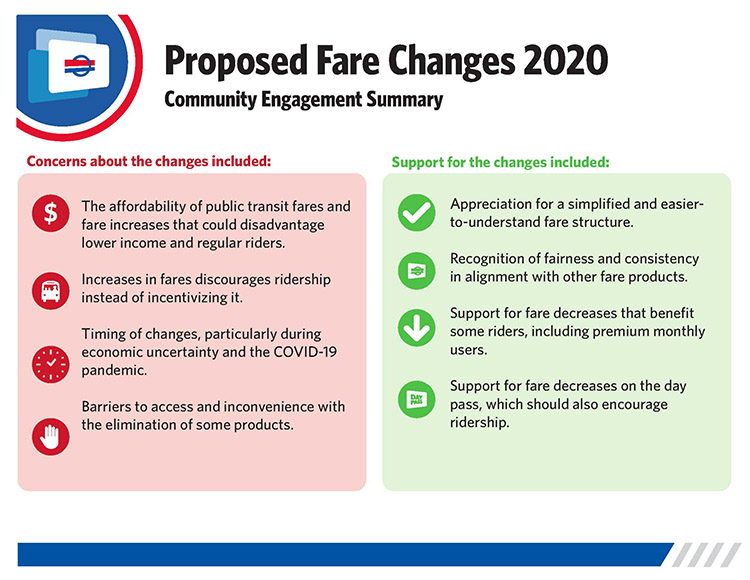 Many other comments from the community included suggestions or recommendations for fare improvements at UTA, but fell outside the scope of these current changes. These comments are important to us and will be reviewed, considered, and incorporated as possible into future fare improvements.

The community's time and effort is much appreciated and the input we received has been valuable. Future fare initiatives will help address concerns we heard against the changes, including affordability and ridership.

These changes will help pave the way for new fare programs under a more simple structure. The proposed fare changes and updated policy will be implemented 12/1/20. Keep in touch with us about changes and future initiatives at rideuta.com. You can always reach us at (801) RIDE-UTA (801-743-3882) or at rideuta@rideuta.com.