Overview
The Utah Transit Authority (UTA) is proposing several changes to the fare policy and structure. The agency is holding a 30-day public comment from July 22 through August 21, including one virtual public hearing that will be held to gather feedback.

Goals of the proposed public fare changes at UTA:
Simplify and streamline the overall public fare structure.
Apply consistent multipliers to the base fare to simplify how the pricing of other public fares and passes are determined.
Streamline the public fare structure by creating a single fare for all premium bus services.
Change current discount structures to align with other discount levels.
Eliminate some fare products for simplification.
Proposed Fare Changes: simplifying the fare structure by applying consistent multipliers to the base fare to set pricing for premium fares and passes.
Base Fare: The Base Fare is the amount charged for a base adult one-way fare. The base fare is currently $2.50 and is not changing.
Premium Bus Services: to now include Express Bus, Ski Bus, and the Salt Lake - Park City Express

Premium Bus Services to be consistently priced at two times the base fare = $5.00 (or 2 X $2.50)

Monthly and Day Pass Fares:

Regular Monthly Fare (Bus & TRAX) = $2.50 x 34 trips
Premium Monthly Fare (Bus, TRAX, & FrontRunner) = $5.00 X 34 trips
Day Pass Fare = $2.50 X 2
Summary of Changes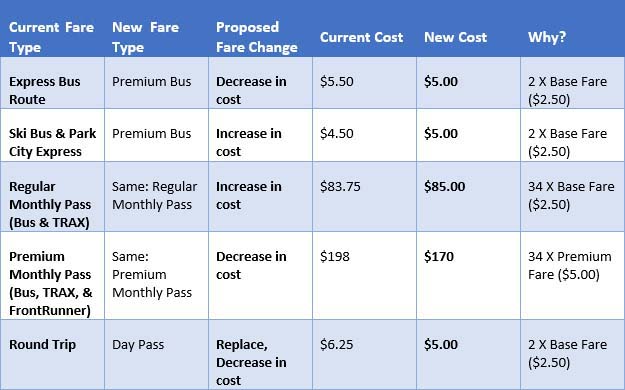 Proposed Changes to Discounts: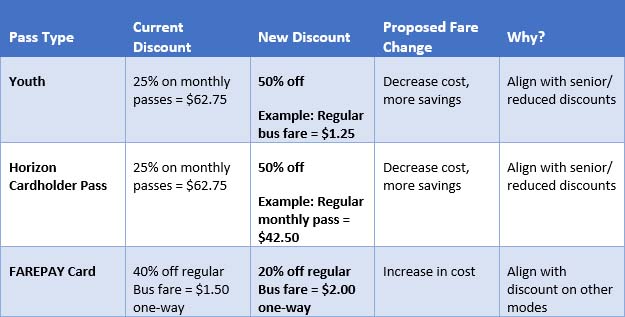 Proposed Fare Product Elimination: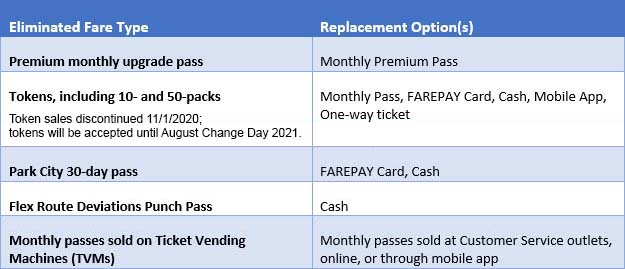 How to Engage & Provide Comment
Let us know what you think! Our public comment period is open July 22 – August 21. You can provide comment via email, phone, mail, or through our online comment platform, OpenUTA. Comments must be received, postmarked or electronically submitted to UTA through one of the following methods by 5 p.m. on August 21, 2020 to be considered as part of the public comment record.
Additional opportunities to learn more and provide feedback are detailed below.
Public Hearing
A public hearing was held on Thursday, August 6 at 6 p.m. Due to COVID-19 gathering restrictions, and in compliance with Governor Herbert's executive order regarding open meetings laws, this was an all-electronic Zoom meeting with no anchor location. The public hearing meeting provided an overview of the proposed fare changes, addressed questions, and accepted public comment. If you wish to view the public hearing recording, you can do so at the following UTA platforms:

          YouTube

          Facebook
Information Available at Open Comment Locations
UTA Customer Service locations will also have information available about the proposed fares changes during the public comment period from July 22 through August 21. Members of the public who wish to learn more and leave a comment in-person can do so at the following locations during the hours listed:

Downtown Salt Lake City
250 South 600 West
Salt Lake City, UT 84101
(801) 287-4664
*Lost and Found Location
Hours: Monday-Friday, 8:30 a.m. to 5 p.m.

Ogden Transit Center
2393 Wall Avenue
Ogden, UT 84401
(801) 626-1207
Hours: Monday-Friday, 8:30 a.m. to 5 p.m.

South Salt Lake – Meadowbrook
3600 South 700 West
Salt Lake City, UT 84119
(801) 262-5626
Hours: Monday-Friday, 8:30 a.m. to 5 p.m.

Timpanogos
1110 S. Geneva Road
Orem, UT 84058
(801) 227-8923
Hours: Monday-Friday, 8:30 a.m. to 5 p.m.

NOTE: COVID-19 precautions are in place – social distancing will be enforced and attendees should wear a mask (masks and hand sanitizer will be available onsite).

Accessibility: To assure full participation at the hearing and during the public comment period, accommodations for effective communication such as a sign language interpreter, printed materials in alternative formats or a language interpreter for non-English speaking participants, must be requested at least five (5) working days prior to the date of the scheduled event by contacting the UTA Hearing Officer at 801-244-3271. Requests for ADA accommodations should be directed to UTA's ADA Compliance Officer at 801-262-5626 or dial 711 to make a relay call for deaf or hearing impaired persons.