UTA integrates mobility on demand (MOD) solutions by combining traditional transit initiatives with private transportation strategies to offer flexible and on-demand service options throughout communities. These valuable partnerships focus on providing more mobility options and expanding transit access to help fill in network gaps. UTA On Demand and UTA ReConnect are two MOD programs that partner with private transportation companies currently being tested by the Innovative Mobility Solutions department.

UTA On Demand
UTA On Demand is a coverage-based microtransit service that uses dynamic routing (non-fixed) and flexible scheduling to help fill in transit network gaps for less populous or remote communities. This innovative form of on demand transportation provides first and last mile trips by connecting riders to fixed route transit options, as well as to other local destinations within a microtransit zone.

UTA's Innovative Mobility Solutions team has partnered with Via to deploy two microtransit zones, Southern Salt Lake County and Salt Lake City Westside. UTA On Demand microtransit zones provide flexible, shared-ride services that are designed to expand transit access and improve mobility options to communities throughout the zones. Future microtransit service deployments are outlined in UTA's Five-Year Service Plan. More information about current UTA On Demand zones can be found on link below.

UTA On Demand Homepage
UTA Microtransit Planning Report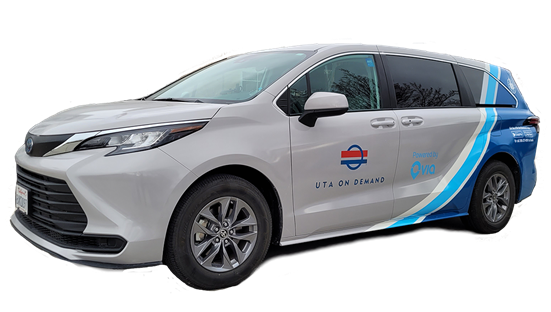 UTA ReConnect
A transportation network company (TNC) is a private enterprise that provides on-demand, also known as ride-hailing, transportation services and products. More transit agencies are beginning to develop partnerships with TNCs in order to expand service accessibility to a wider reach of communities, offer flexible trip scheduling, leverage emerging app-based technologies, and improve mobility choices for customers.

As transportation technologies evolve and mobility demands change throughout the Wasatch Front, UTA is currently exploring partnerships with Lyft and Uber to identify potential solutions when traditional transit is not an option or fixed route service has planned and unplanned operational interruptions.