Project Overview
It's no secret the Wasatch Front's poor air quality poses significant problems for residents, and on average Utah's most populous region has more than 100 days with air pollution exceeding clean air standards. Poor air quality also has the potential to negatively impact regional economic growth by making Utah a less attractive place for business relocation and expansion. With this in mind, UTA is looking to improve regional air quality by increasing its use of clean fuels and encouraging more people to use mass transit. To accomplish this, UTA, along with local, state and federal leaders, is looking to build the Depot District Clean Fuels Tech Center at approximately 600 South 200 West in Salt Lake City.
UTA currently operates a limited number of alternative fuel buses, and while the agency is working to expand its alternative fuel and electric vehicle fleet, it's restricted from doing so due to limited fueling and maintenance capacity. As the largest single land holder in Salt Lake City's Depot District, UTA is working to transform its property into a state-of-the-art maintenance and fueling facility for its growing fleet of clean air vehicles as well as an interconnected campus that defines transit-oriented development (TOD) complete with office space and mixed-use residential buildings.
The project has been identified by both the area's metropolitan planning organization, the Wasatch Front Regional Council (WFRC), and UTA as a critical need to significantly expand public transportation service in Salt Lake and Davis counties and UTA's use of clean fuel buses. To date, $17 million has been invested in the development of the project. To complete it, a combination of local, state, federal and private funds totaling $51.5 million are needed to construct this innovative and state-of-the-art clean fuels facility.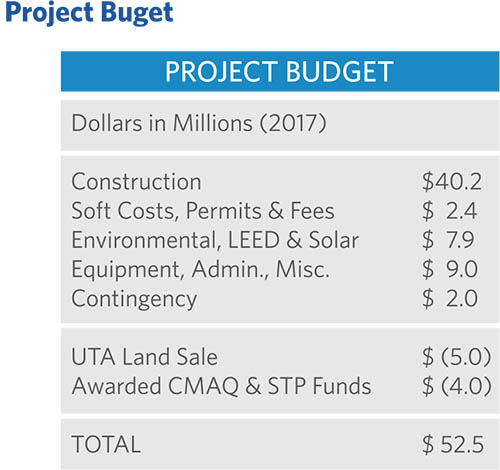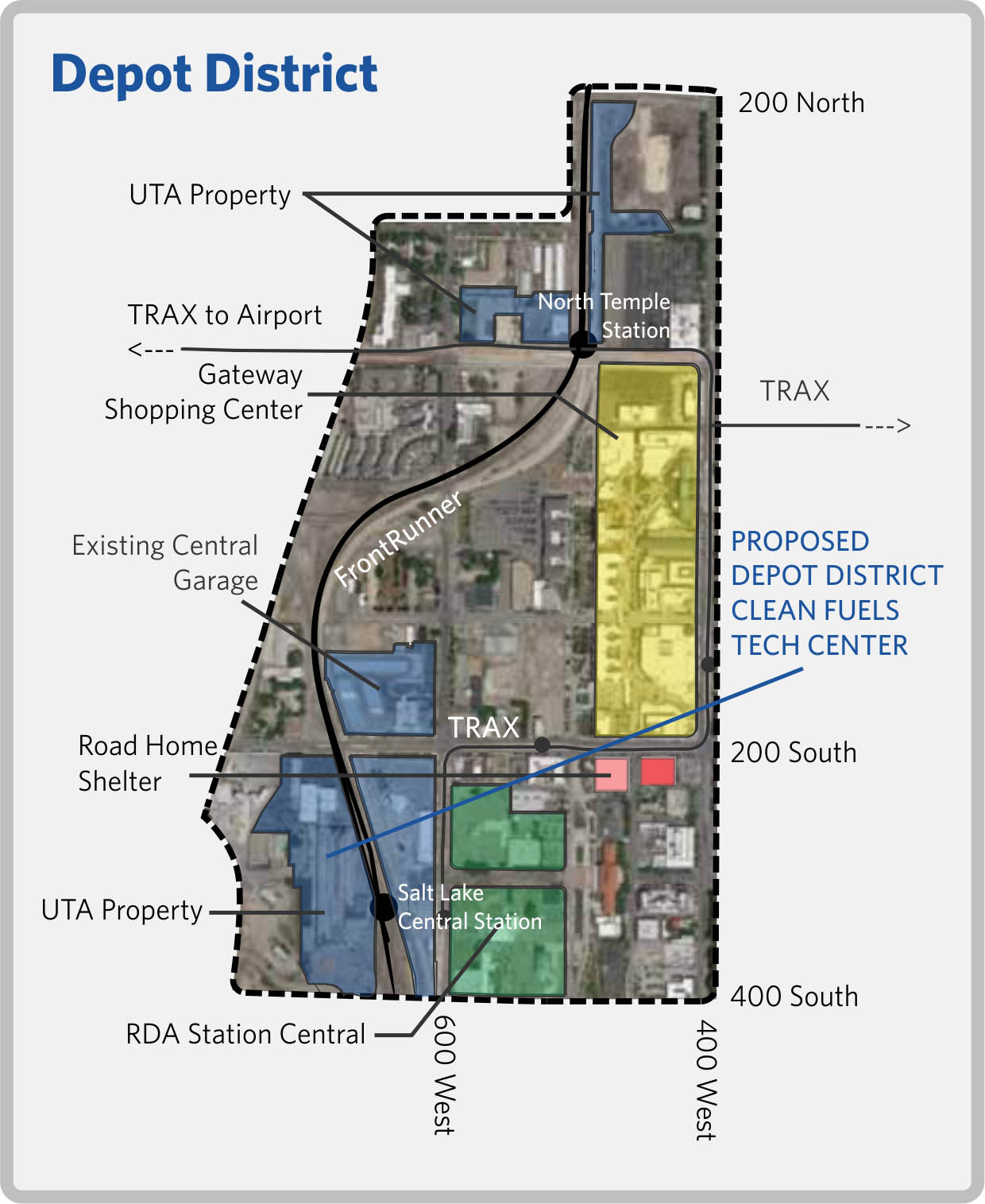 Project History & Timeline
For many years, UTA has been making plans to replace its 45-year old Central Bus Garage, which is fast approaching the end of its useful life. Currently, 100 buses are maintained at the 7.3 acre garage facility designed to serve a maximum of 90 vehicles. The facility was last modified in 1987 and cannot be expanded due to lack of available adjacent land. The Central Bus Garage is also not large enough to store UTA's current fleet, forcing the agency to park 20 of its buses at its administrative offices. The lack of space makes it impossible for UTA to expand bus service, as there is no available room to store and maintain the necessary additional vehicles.
UTA is currently searching for the necessary funds to build the Depot District Clean Fuels Tech Center, and the agency has worked to establish project readiness. UTA has finished the necessary environmental studies, finalized design and has constructed a small fueling facility for its current CNG bus fleet on the site. UTA has also identified local funding to help cover the cost of facility design and construction and is actively pursuing federal grants for the project's remaining capital requirements.

Project Benefits
Construction of UTA's Depot District Clean Fuels Tech Center provides the following benefits:
Repurposes a century-old railroad site into a state-of-the-art facility designed to accommodate today's transit vehicle maintenance requirements
Frees up UTA's nearby existing and obsolete 45-year old bus garage site for mixed-used TOD
Produces a LEED-certified bus facility that utilizes green infrastructure, such as solar photovoltaics, to charge electric buses
Advances Salt Lake City's Depot District toward sustainable development
Saves more than $42 million in fuel costs over the 40-year life of the project by allowing UTA to fuel buses with CNG and electricity instead of diesel
Expands bus service by housing up to 150 alternative and standard fuel buses to meet short-term and 2040 needs
Adds the potential for creating a public CNG fueling facility in downtown Salt Lake City
Creates long-and short-term jobs including more than 600 full-time job years during design and construction, as well as job training and mechanic apprenticeship opportunities
In addition, through a 40-year benefit-cost analysis conducted by Zion's Bank, it's estimated the net value benefit of the Depot District Clean Fuels Tech Center project is $1.88 for every $1 in cost. This is based on the following life-cycle cost savings:
$42 million in fuel cost savings for UTA's fleet
$74 million in fuel cost savings for personal automobiles due to increased transit ridership
$5.7 million in reduced carbon dioxide emissions costs and $13 million in emissions costs through a reduction in Criteria Air Pollutants (nitrogen oxide, particulate matter, volatile organic compounds and sulfur dioxide) through CNG fleet expansion
$97 million in increased safety as a reduction in vehicle miles traveled (VMT) drives fewer auto crashes, injuries and deaths
$9.2 million in transit-oriented in TOD land value benefits