Project Overview
Completed in 2007, the Brigham City Transit Corridor Study examined options for a transit link between Ogden and Brigham City. The report found that commuter rail would be the best mode to connect the two communities. Shortly after the corridor study was completed, Box Elder County passed a sales tax to support the development of the extension of commuter rail to Box Elder County.

In 2008, UTA implemented FrontRunner service between Ogden and Salt Lake City, including trips to Pleasant View. The Rail Safety Improvement Act of 2008 required that all rail providers implement positive train control (PTC) systems by the end of 2018. UTA is finalizing the implementation of PTC on UTA owned tracks, however, Union Pacific and UTA have developed different PTC solutions. Using the shared track from 12th St. in Ogden north, would require a significant investment in PTC equipment by UTA. As such service to Pleasant View is suspended until UTA can purchase right of way and build a guideway separate from UP. As conditions have changed since the conclusion of the study, UTA is currently working with Box Elder County and other regional stakeholders to kick-off a Box Elder-Cache-Weber Corridor Transit Study. The 2015-2040 Regional Transportation Plan identifies the need to preserve right of way for this future project.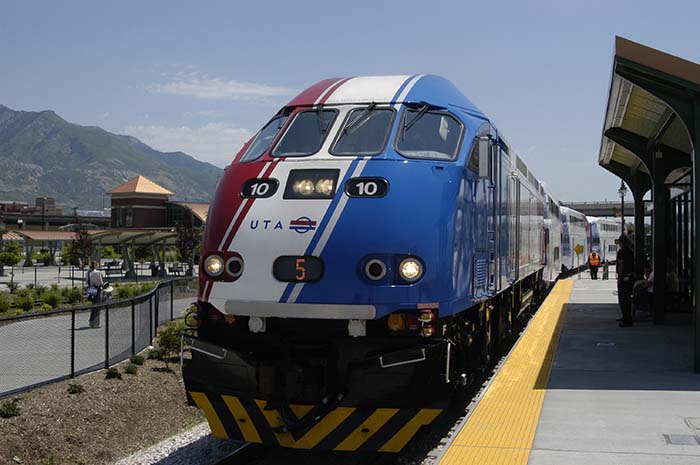 Project Partners
UTA and the Utah Division of Water Resources (DWRe) are looking to jointly acquire property in Box Elder County adjacent to Union Pacific's existing rail corridor.
DWRe will acquire a 100-foot wide utility corridor between South Willard and Brigham City. While final alignments are far from being determined, and won't be until a NEPA process takes place, the purchase of this corridor preserves a pipeline alignment option tied to the potential future development of the Bear River. The corridor could additionally be used for several other future utilities.
UTA will be acquiring a 40-foot wide corridor to preserve options for a future transit line. UTA's corridor will begin in Weber County and terminate in Brigham City.
UTA and DWRe would like to acquire property before development occurs. This will help reduce negative impacts to land owners and has a potential cost-savings benefit.
It is anticipated that the utility right of way could be developed into a linear park feature and used as part of development for open space requirements.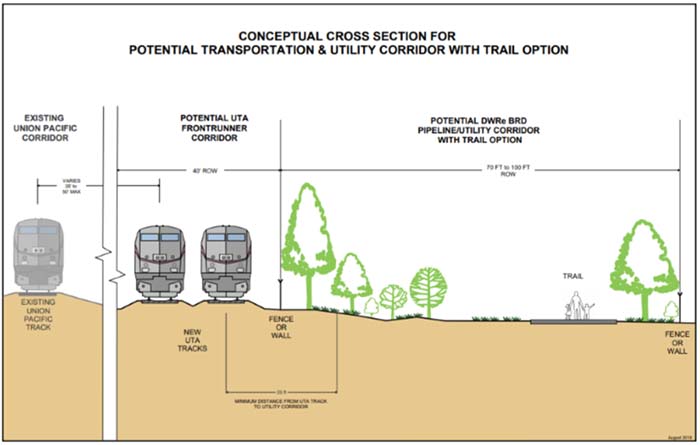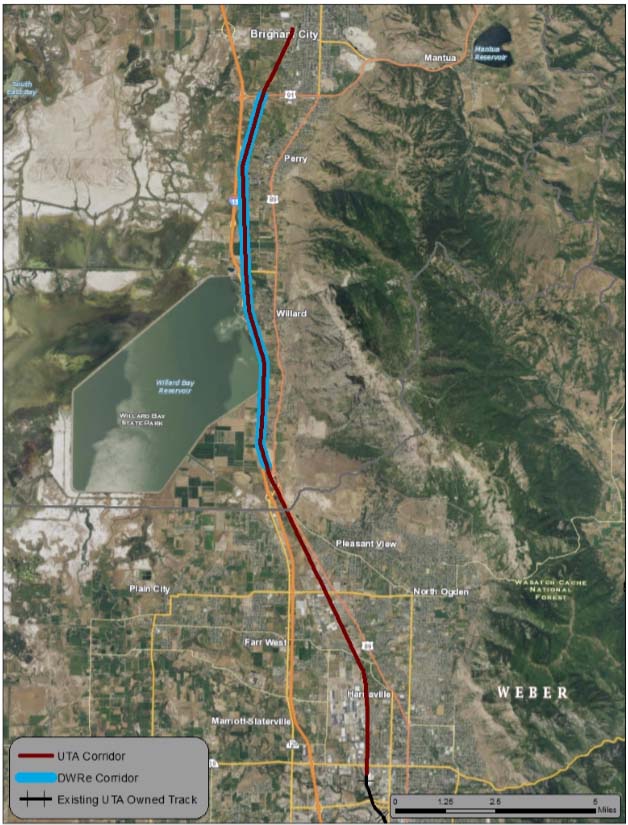 Next Steps
Box Elder-Cache-Weber Corridor Transit Study

UTA is currently working with Box Elder County and other regional stakeholders to kick-off a Box Elder-Cache-Weber Corridor Transit Study. The study and will be used to assess the demand for transit service and recommend an appropriate level of service for the corridor connecting Brigham City with Ogden to the South and Logan to the north. The Study will:
Review relevant past studies
Assess the demand for transit service
Evaluate the feasibility of a FrontRunner extension to Brigham City and consider a range of transit alternatives
Identify preferred transit projects to serve the corridor
Provide implementation strategies for short, medium, and long range transit investments
Include stakeholder and public input for affected parties
Contact
Hal Johnson
HJohnson@rideuta.com