You can now purchase ski bus fare using our new UTA GoRide app. Simply download the free UTA GoRide app from the app store of your choice and select "Ski One Way" or "Ski One Way R/Sr" (a reduced fare for qualifying senior or reduced-fare eligible riders). Please note that you'll need to purchase two tickets to make a round trip on the ski bus. You can purchase tickets in advance and buy tickets for multiple riders. Activate the ticket when you're ready to ride and show the activation screen to your bus driver as proof of fare.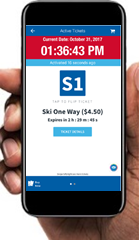 Ski Bus Service Starts 12/2
This new feature arrives just in time for the start of UTA's convenient ski bus service. Service to Big and Little Cottonwood Canyon resorts will now start on Saturday, Dec. 2. We've moved up our start date so that our ski bus riders can take advantage of the anticipated opening of Alta, Snowbird and Solitude (Brighton is currently open). Service may change if resorts do not open as expected, so please follow us on Twitter at @RideUTA for updates.
Our Big and Little Cottonwood Canyon service was improved last year to increase the frequency of our ski buses, provide service all day, and add more ski bus rider parking. Service to Sundance and Snowbasin starts Saturday, Dec. 16. Service to Powder Mountain is expected to start on Dec. 18 if there is adequate snow.
See Ski Schedules and Maps here
About UTA GoRide
You can download the UTA GoRide on an iPhone or Android smart phone. In addition to ski bus fare, you can use the app to purchase a one-way ticket or day pass for TRAX, the S-Line and local buses. Eligible riders can use the app to purchase reduced fare passes. Fare can be purchased in advance and activated once you are ready to board your bus or train.
Check out our UTA GoRide FAQ page for tips on showing proof of fare, activating your ticket and transferring to another bus or train within our 2.5-hour free transfer window.
FrontRunner Tickets Coming Soon
FrontRunner tickets are not currently available on UTA GoRide, as the station-based fare structure has required additional development. We are actively working on this and anticipate adding FrontRunner tickets in early 2018.
UTA ski bus routes and maps available at rideuta.com/Rider-Info/UTA-Ski-Service or on the SkiUtah app and website.