The UTA GoRide mobile ticketing app is being replaced by Transit app's new UTA fare payment feature. You can continue to use UTA GoRide until February 28, 2023, however the app will stop selling tickets on February 11, 2023 and all UTA GoRide tickets will expire February 28th. Please be sure to use all your tickets by then. For questions contact UTA customer service at 801-RIDE-UTA (801-743-3882) or at rideuta@rideuta.com.

Download Transit now to plan, track and pay for your trip in one app! Already using Transit? You will see the new "Buy Ticket" option at the bottom of the screen. For more information visit: https://transitapp.com.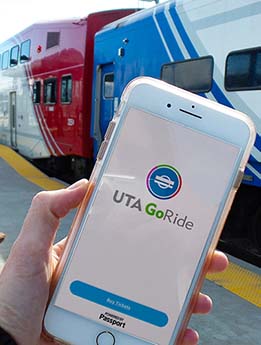 Pay with UTA GoRide,
Plan with Transit
Download the apps at your favorite app store.
Benefits of UTA GoRide
No need to have exact change or find a ticket vending machine.
You can purchase multiple fares at one time.
Purchase and use tickets for multiple riders.
Purchase and store tickets on your phone for future use.
How To Use UTA GoRide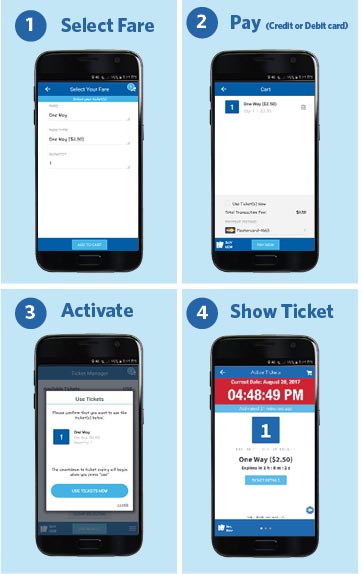 How does UTA GoRide work?
Open the app on your mobile phone to plan a trip and purchase tickets.
Add a credit or debit card for purchases.
You can buy your tickets prior to riding and activate them when you are ready to ride. Unused tickets will expire after 90 days.
Once you activate your ticket a countdown clock will show how much time you have before your ticket expires. When the screen is tapped, it will flip to an animated QR Code.
Show your active ticket screen to the operator when boarding the bus or fare inspector when riding TRAX. If you are using a reduced-fare ticket, you will also need to show your discount qualification (Reduced Fare ID, Medical card, or proof of age 65+).
What can be purchased on UTA GoRide?
Available tickets include FrontRunner, TRAX, Streetcar, local bus, PC-SLC Connect, and ski bus. Ski bus tickets can be bought and used anytime in the current ski season.

One Way Fare

Day Pass

One Way Reduced/Sr.

FrontRunner

Group Pass

FrontRunner Reduced/Sr.

Park City One-Way

Park City One-Way Reduced/Sr.

Local Monthly Pass

Local Monthly Pass Reduced/Sr.

Premium Monthly Pass

Premium Monthly Pass Reduced/Sr.

Rider's License

One-Way Ski Fare

One-Way Reduced/Sr. Ski Fare
Monthly Passes will be available for purchase on the 15th of the month for the following month. (ie. Monthly pass for March will be available February 15th). Passes expire at the end of the month. Ski passes will expire at the end of the current season. One Way, FrontRunner and Day passes must be used within 90 days of purchase.