A group of UTA's top light rail employees took first place at the 26th annual APTA International Rail Rodeo last week. TRAX operators were judged as they completed timed train inspections, assisted riders in a variety of staged situations, operated Denver's RTD rail system and met other criteria. UTA electromechanics were judged on skills like their ability to quickly diagnose mechanical issues and use special tools to conduct measurements with a fraction of an inch, less than the width of a human hair.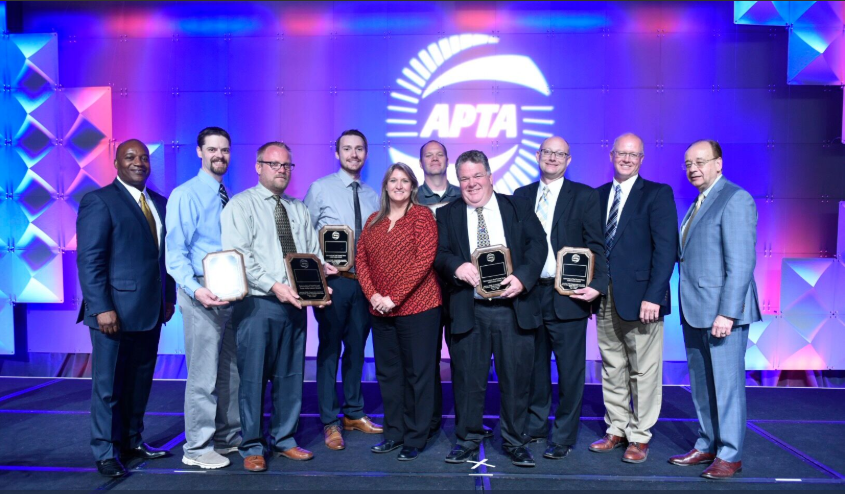 This year's APTA International Rail Rodeo competition was held in Denver from June 7-10. This is the second time in four years that UTA beat national and international teams to win the Rail Transit Team Achievement Award, given to the transit system with the highest combined rail operator and maintainer team scores.
"UTA once again showed how it can compete against the [toughest competition] and bring home No. 1," said Bryan Sawyer, UTA's manager of rail technical services and QA.
UTA operators Logan Packer and Curtis Turley and electromechanics Jody Fairbourn, Ryan Gardner and Kris Peterson made up UTA's team. To participate in the rodeo, participants must have excellent technical skills as well as perfect attendance and no accidents.
"Only the cream of the crop from UTA can compete on the international level," Sawyer said.
The APTA International Rail Rodeo competition encourages excellence and professionalism in rail transit operations. This year's competition included 18 teams of operators and 15 mechanic teams from the U.S. and Japan.
Congratulations to UTA's best of the best!