Dear UTA Riders

Welcome to Rider's Digest. Whether you are a UTA bus, TRAX, FrontRunner, paratransit or vanpool rider, we are talking to you. Every quarter you'll be able to find out what's "news" at UTA. We'll let you know about new services, places to go on transit and people you might meet while riding UTA. We'll also talk about service enhancements and provide updates on happenings throughout our system.
CAT Provides Accessibility Input

UTA's Committee on Accessible Transportation (CAT) is a board-established, citizen advisory group designed to ensure the agency has continuing feedback from riders with disabilities. CAT members meet monthly and discuss issues related to UTA services, facilities, equipment, plans, programs and procedures.

The CAT is currently looking for new members, and several areas of representation are considered to have particular importance and relevance to ensure the CAT includes input from all age and disability groups. These groups include:
Cognitive or learning disabilities
Mental illness
Mobility impairments or physical disabilities
Deaf/hearing impaired
Blind/visually impaired
Multiple disabilities or combinations of disabilities
Seniors (65 years & older)
Membership rules include having only one member of a family serving at any given time, and participants must reside in Box Elder, Davis, Salt Lake, Tooele, Utah or Weber counties.

Interested persons should complete the downloadable application on rideuta.com to be considered for CAT membership. If you should need assistance completing this application or have questions, please contact the ADA compliance officer at 801.287.3536 (voice) or dial 711 to make a relay call. Applications are accepted throughout the calendar year and will be held in an applicant pool and reviewed when openings occur.
Improving Accessibility

In 2014, UTA began an effort to improve access at bus stops for riders with disabilities along the 200 South transit corridor from Salt Lake Central Station to 1300 East. This project has been recently completed and includes the installation of cement pads that enable wheelchair riders or others with limited mobility to board buses more easily. Additionally, most of the 32 stops now have shelters to protect riders from inclement weather.

200 South is a major transit corridor with a number of bus routes – 2, 3, 11, 205, 220, 307, 320 and 902 – that go to major regional destinations like the University of Utah, the Salt Palace Convention Center, Salt Lake Central Station, as well as major medical, shopping and housing areas. The 3.1-mile corridor is one of the transit system's most traveled routes with an average of 1,145 boardings per mile each weekday.

The 200 South enhancements are part of a much larger improvement effort as UTA is working to increase accessibility along many of its major travel corridors. The agency also recently partnered with Salt Lake City to improve stops along 1700 South, and each stop on State Street between North Temple and 800 South is now equipped with a cement pad and shelter. UTA also plans to improve State Street bus stops between 2100 South and 5400 South this year. Additionally, the agency has improved eight stops on Redwood Road and is in the process of using Prop 1 funding to add cement pads and shelters to stops on Washington Boulevard in Ogden.
Testing New Bus Stop Signs

UTA is testing two versions of a redesigned bus stop sign along routes 612 and 628. The signs were installed on April 3 at every stop along both Weber County routes. The new signs are bigger than the current bus stop signs. Designed with riders and operators in mind, both signs have more white space to make them easier to read and easier for bus operators to see at night. The signs also feature the new graphics used on UTA's website and printed materials. Customer feedback is welcome at busstoptest@rideuta.com.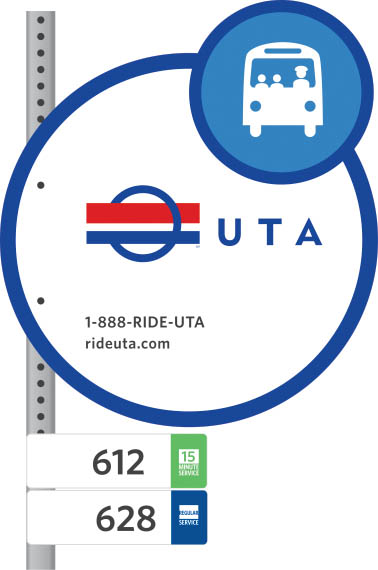 Construction Season Starts

Like the Utah Department of Transportation and others that build and maintain facilities and infrastructure, UTA also has a construction season that coincides with warmer weather. A team at UTA has been working on plans to schedule, communicate and construct major state of good repair (SGR) projects. This work is designed to ensure the safety and efficiency of our system.

Work already has begun on tactile tile replacement at the Fashion Place West TRAX station, and on Easter weekend (April 15-16) UTA completed major work on the State Street light rail bridge located near 8000 South in Midvale.

Upcoming this construction season is work on the four curves on 700 South in Salt Lake City. All three light rail lines run through the area, and work on those rails, due to wear and tear, needs to be done. This major undertaking will involve lane closures as well as some train delays for five consecutive weekends beginning Memorial Day weekend.

Other projects this construction season involve grade-crossing work at 4500 South, 8720 South and 8800 South.

Replacement of tactile tile, the raised yellow lines marking the safe areas for riders to stand on the platforms, is on tap for several stations this summer. The work at Fashion Place West will be completed soon, and similar work is currently taking place at the Historic Sandy Station. Additionally, the Sandy Expo, Central Point and Sandy Civic stations will be getting new tactile tiles this summer.

The nature of SGR work is extensive and can unfortunately impact service. Detailed plans have been developed to pro-actively communicate with riders and ensure passengers are inconvenienced as little as possible. Despite best intentions, however, there will be delays. In these cases UTA team members will be located on the platforms to help direct customers during the construction.

Check rideuta.com or follow rideuta on social media for the latest information on Summer 2017 SGR construction.
UTA Working with U.S. Attorney

Utah Transit Authority and the Office of the U.S. Attorney for Utah signed a "non-prosecution agreement," removing UTA from an ongoing investigation into what could be considered inadequate checks and balances, standards and policies in place at the agency between the years 2008 and 2014. Besides a commitment to cooperate with the U.S. Attorney's office, the agreement is seen as an endorsement of the reforms the UTA Board of Trustees and management team have already put in place relative to trust, transparency and accountability.

"This is effectively the U.S. Attorney's stamp of approval on reforms UTA's Board of Trustees and management team have put in place over the past three years to address past problems and set us on an accountable and transparent path forward," said UTA Board Chair Robert McKinley.

"Despite how difficult the past few years have been, we're appreciative of the U.S. Attorney's Office and State of Utah's Legislative Auditor General for their thorough work to investigate inadequacies and questionable activities that occurred between 2008 and 2014, a period of major expansion of UTA's light rail and commuter rail network," said UTA President and CEO Jerry Benson. "We are fully committed to staying positive and continually emphasizing the significant reforms we have implemented in response to the issues raised and to building a better UTA."

The federal investigation and legislative audit found the agency's internal accountability system was insufficient, resulting in poor documentation of federal funds, inadequate oversight of real estate transactions, noncompliance with ethical standards and improper approval of executive bonuses (which were later cancelled and never paid).

Immediately following a 2014 legislative audit that identified many of these issues, UTA's board and management began implementing dozens of reforms to strengthen checks and balances, tighten compensation and travel policies, improve transparency and enact the strictest ethical standards of any public agency in Utah.

"UTA is a much different organization today than it was three years ago," noted Board Chair McKinley. "Multiple reforms and changes have been enacted to improve UTA, but we know we have a long road ahead to rebuild the public's trust and support."

Part of the agreement with the U.S. Attorney's Office is putting in place an independent monitor for up to three years to ensure UTA's reforms continue to be effective and to recommend additional improvements if needed. The agency has also agreed to cooperate with the U.S. Attorney's Office in its further investigations.

With the agreement in place, UTA's full and undivided attention can be focused on:
Providing the best-possible transit service to our customers and communities
Being the best stewards we can be of the public resources entrusted to us by taxpayers
Conducting our business in clear view of the public
Adhering to the strictest ethical standards of any public agency in Utah
Honoring and supporting our hard-working and loyal employees
We know people depend on UTA, and we depend on them. Working together, we're committed to building a better UTA. More information on UTA's agreement with the U.S. Attorney's Office can be found at rideuta.com.