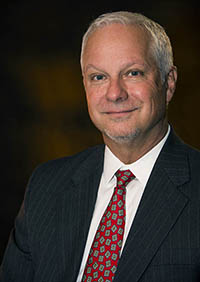 The UTA Board of Trustees voted unanimously today to appoint Jerry Benson as UTA President & CEO. After his appointment, Benson said he was honored and humbled to accept the position.
"I care deeply about our customers who rely on our services to get to work, school and about their daily lives, and I care about the 2,400 incredible UTA employees who work hard every day to provide great service to our riders and the community," said Benson. "Over the next weeks and months, I will be specifically reaching out to our riders, employees and community stakeholders, listening to their issues and ideas about how UTA can better meet their needs. While I ride the system and meet with elected officials and other stakeholders every week, there are many voices I have not heard from recently, and I want to get a fresh perspective."
More Than 30 Years of Experience
Benson has more than three decades of experience in public transportation. His career at UTA has been focused on operations and service, as he has previously served as UTA's vice president of operations, chief operating officer, chief performance officer, director of communications and director of human resources.
Benson has a Ph.D. in organizational communication, a master's in human resource management and a bachelor's degree in organizational communication. He serves as an adjunct professor at the University of Utah.
Benson Comes Highly Recommended
"Mr. Benson is a highly qualified and trusted leader, well regarded by employees, local officials and stakeholders, and he is respected throughout the national transit industry. Beyond his experience, he is passionate about the work UTA does and understands how our services affect the daily lives of riders. He wants UTA to be successful and earn the confidence of the people we serve."-- H. David Burton, UTA Board Chair
"Jerry has shown he's an engaged and experienced leader, willing to listen to local elected officials and community partners to find solutions that work for everyone. I'm confident he's the right person to lead UTA to future success."-- Mayor John Curtis, Provo City
"Benson is a dedicated and capable public servant who will ensure UTA serves residents now and in years to come. The Wasatch Front must have a strong transportation plan to keep pace with future growth, and he has the experience to help UTA continue to meet our community's needs."-- Andrew Gruber, Executive Director of the Wasatch Front Regional Council
Market Comparisons Helped Determine Compensation
Benson will receive an annual base compensation of $274,000. Like other administrative employees, he will also be eligible to participate in a single tax-deferred retirement plan and receive health and medical benefits. He will not receive an annual performance bonus or transportation allowance. In accordance with UTA's compensation policy, Benson's salary was determined after a market comparison analysis to non-profit and government organizations and transit agencies of similar size and services.
Next Steps
Follow us on Facebook and Twitter to learn more about Benson's plans for UTA and hear about upcoming opportunities to share your feedback with him.