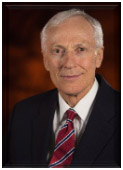 Board Chair
Appointed by:
Governor of State of Utah
Term Ending:
September, 2020
Professional:
Greg Bell is President and CEO of the Utah Hospital Association. He practiced law in the area of banking and real estate finance and served as general counsel to corporate clients. He was self-employed in real estate development for many years.
Civic:
Mr. Bell served as Utah's 7th Lt. Governor with Gov. Gary Herbert from 2009 until 2013. Twice elected to the Utah State Senate, he represented central Davis County from 2003 to 2009. He focused on higher education, the judiciary, medical malpractice, and health policy. Bell is a past mayor and member of the city council of Farmington. He also served as Chair of Envision Utah, an internationally acclaimed regional planning organization. He writes a regular column on "Ideas" in the Deseret News. Greg is the Chair of Get Healthy Utah, which promotes active lifestyles and a healthy diet among Utahans.
Education:
He is a graduate of Weber State University and the S.J. Quinney College of Law (University of Utah).
Personal:
Greg and his wife, JoLynn, currently reside in Fruit Heights, Utah. They are the parents of six children and have 24 grandchildren.