May 2018
Background
The S-line Streetcar opened in December 2013, with a single track and 20 minute headways. Since the completion of the line, a great deal of development has occurred and continues to occur in the area. The Salt Lake City Redevelopment Agency found the construction of the line has accelerated or was partially responsible for the creation of over 1,000 residential units and 2 million square feet of redevelopment, resulting in over $400 million in private investment through 2017. The S-line had 370,500 weekday boardings in 2017.



With the success of the line, there is a desire to be able to increase the 20 minute frequency of service. The current single track will not allow for the additional trains needed for 15 minute service. The planned double tracking on a two block segment of the line will allow it. Currently there is a passing track at 500 East to allow trains traveling in opposite directions to pass by each other for the 20 minute service. This project will extend the double tracking westward, to 300 East to allow for the increased 15 minute frequency. A new station platform will also be added at 300 East to accommodate the double tracking. UTA and Salt Lake City have estimated that the increased frequency will attract approximately 870 new daily passengers by 2030.






This project will cost $5.9 million for design and construction, Salt Lake City secured $1.9 million from the Congestion Mitigation and Air Quality Improvement (CMAQ) Program and Salt Lake County has programed $4.0 million from the County Infrastructure Fund. In addition, the County is also pledging $500,000 for additional operating costs for the first three years.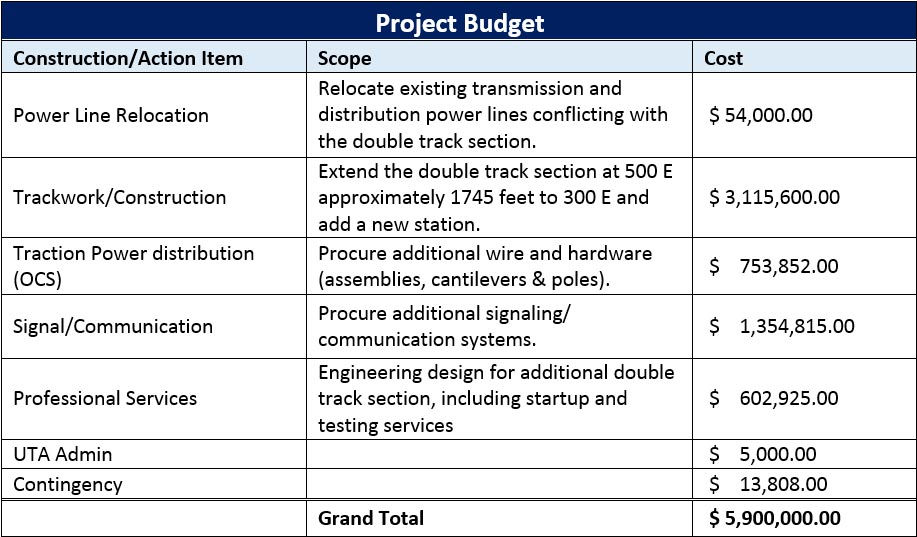 Current Progress
All agreements with Salt Lake County have been signed. The contractor has been procured to complete the design and construction of the project. Grading and earthwork construction will begin June 1 with engineering design to be released for construction around July 19. OCS and train control systems will be procured once design is completed with installation set to begin on October 1. Substantial completion is scheduled for January 18, 2019 and the new track release for revenue operation January 19, 2019.