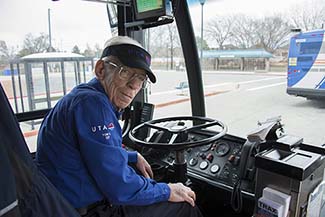 Tom Conway began driving buses for Salt Lake City Lines in September 1969, earning $2.71 an hour with no retirement benefits. Six months later, when Salt Lake City Lines transitioned into the Utah Transit Authority, "Pay was raised dramatically, the number of riders and buses expanded and a retirement program was put into place," Conway recalls.

Nearly half a century later, the retired bus driver believes what makes UTA "one of the better companies" is that it keeps improving. "The program for supervisors keeps getting better, which in turn makes the drivers better," Conway says. According to Conway, greater training, quality relationships between drivers and their supervisors, and meaningful teamwork are ways UTA has improved over the years.

Conway retired on June 3, 2017 and says he now has time to do the things he and his wife have always wanted to do. Conway and his wife have a long list of adventures they each wish to experience now that there's time, and the lessons driving a bus for 48 years has taught him remain. He believes everyone should be accepted as they are, and if given the opportunity to become better they will do better. He cites himself as an example of this philosophy. "I was a project at first," he laughs. But driving a bus and interacting with people all day helped him become a greater person and see the lighter side of life.

Conway has been positively influenced by passengers he's met over the years and by his fellow drivers. "Having a good relationship with passengers and making friends out of the regulars is most important," Conway says. When asked if he had any advice for current or future bus drivers he replied, "Grouches should stay away."

Working with UTA has helped him relate better to people, improve himself as a person and even be a better husband.

His favorite memory as a UTA bus driver? Meeting the woman who would become his wife. Gaye was a regular on Tom's route, which was route 9 back then. After a while they started to talk, and eventually began dating. Thirty-seven years and two children later, the couple are enjoying retirement and the new adventures ahead. UTA honors Tom Conway's 48 years of service and 3 million accident-free miles.

Interested in learning more about a career at UTA? Check out our current job openings.