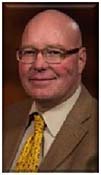 Appointed by:
Municipalities within Weber County and Brigham City, Perry and Willard in Box Elder County.
Term Ending:
May, 2019
Professional:
REALTOR member, Licensed Real Estate Broker.
Civic:
Former Pleasant View City Mayor, City Council member, Chairman of Weber Area Dispatch 911 and Emergency Services District, and Member of Peace Officers Standards and Training Council (POST).