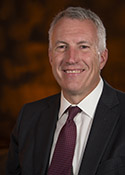 Appointed by:
President of the Senate
Term Ending:
November, 2020
Professional:
Serves as Vice President of Cottonwood Title Insurance Agency, Inc. He is a licensed title and escrow officer and manages the escrow operations of the company. Served on the Title and Escrow Commission for the State of Utah from 2009 – 2013, as well as President of the Utah Land Title Association from 2010 – 2011.
Civic:
Mr. Ashton was elected to the Salt Lake County Council in 2002, and served through 2006. He represented District 5 of the county and also served as its Chairman. In 2006, he was successful in getting a $48,000,000 open space and parks bond on the ballot, which passed by an overwhelming margin that year. After his departure from the Council, he served on the Salt Lake County Open Space Advisory Board, and the Re-districting Commission for Salt Lake County.
Personal:
Cort and his wife Teryn currently reside in Draper, Utah, and are the parents of four children and six grandchildren. He's an avid cyclist, and enjoys outdoor recreation.