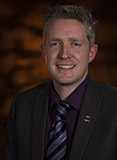 Appointed by:
Municipalities within Weber County and Brigham City, Perry and Willard in Box Elder County.
Term Ending:
Feb. 21, 2021
Professional:
Mayor Taylor was elected to the North Ogden City Council in 2009 and as Mayor in 2013.
Civic:
Has served 14 years as an officer in the United States Army National Guard; seven years on active duty. He served two tours of duty in the Iraq War as a convoy security commander and as an advisor to an Iraqi national intelligence service; followed with one tour in Afghanistan as an advisor to the Afghan Border Police. He has worked previously for the Defense Intelligence Agency, the National Ground Intelligence Center, and the Department of Homeland Security.
Education:
Graduated from Brigham Young University in 2006 with a BA in Political Science and a minor in Military Science. In 2012 received a Master of Public Administration from the University of Utah. He is currently a PhD candidate at the University of Utah in International Relations.
Personal:
He and his wife Jennie Ashworth Taylor have six children and love living in North Ogden.