Provo Orem TRIP (TRansportation Improvement Project) is a road, transit, bicycle and pedestrian improvement project designed to meet growing transportation needs in Orem and Provo. Community benefits from the project include reducing vehicle trips, supporting the economy and providing transportation choices.

The project is a partnership between the Utah Department of Transportation (UDOT), Utah Transit Authority (UTA), Mountainland Association of Governments (MAG), Provo, Orem and Utah County.
Project Design
Roadway Improvements

The project's roadway improvement component includes roadway widening, bridge replacement, installing pedestrian-friendly crosswalks and improving various intersections along University Parkway and University Avenue. The project will:
Widen University Parkway, 800 East to University Avenue, adding one new lane in each direction
Replace University Parkway bridges over the Provo River
Make intersection improvements on University Parkway at 200 East, Main Street 800 East and 230 North and in Provo at Freedom Boulevard, 400 West, University Avenue and 300 South
Transit Improvements

The project's transit component is a bus rapid transit, or BRT, line. BRT is an innovative, high-capacity public transit solution that can significantly improve urban mobility and increase travel choices in a community. This permanent, integrated system uses specialized buses on roadways and dedicated lanes to quickly and efficiently transport passengers to their destinations. BRT systems can easily be customized to community need and incorporate state-of-the-art, low-cost technologies that result in more passengers and less congestion.

The BRT line will use articulated buses and provide consistent and frequent service through exclusive bus lanes and traffic signal priority. Additionally, the line will feature station amenities similar to those found at TRAX stations (ticket vending machines, level-boarding platforms, high-end shelters, benches and landscaping). The BRT line will connect FrontRunner commuter rail with major Utah Valley destinations such as universities, major employment centers, shopping malls, and downtown Orem and Provo.

Here are some additional BRT details:
18 stations
25 modern articulated buses – 18 on the road at one time
6 minute frequency during peak travel times
10 to 15 minute frequency during off-peak travel times
Bike and Pedestrian Improvements

Bicyclists and pedestrians are an important element of the Provo Orem TRIP. This includes those traveling through the project corridor as well as those who plan to use the bus. Some improvements for bicycle and pedestrian facilities through the corridor include:
New and wider sidewalks in many areas where sidewalks were narrow in width or in disrepair
Upgraded pedestrian ramps in many locations where the current ramps do not meet the most recent standards
Wider pedestrian ramps at intersections along the College Connector Trail
A bike lane in each direction along University Avenue from 400 South to 700 North
A safer gutter adjacent to the bike lanes along 700 North in Provo
A median curb along 700 North directing pedestrians and bicyclists to cross only in designated areas
A crossing in Provo at 200 East that directs bicyclists into their own lane across 700 North
Improvements to widen existing sidewalks along 900 East in Provo to 10-foot-wide multi-use paths
Increased width and height for the Provo River Trail where it crosses under University Parkway
Project Map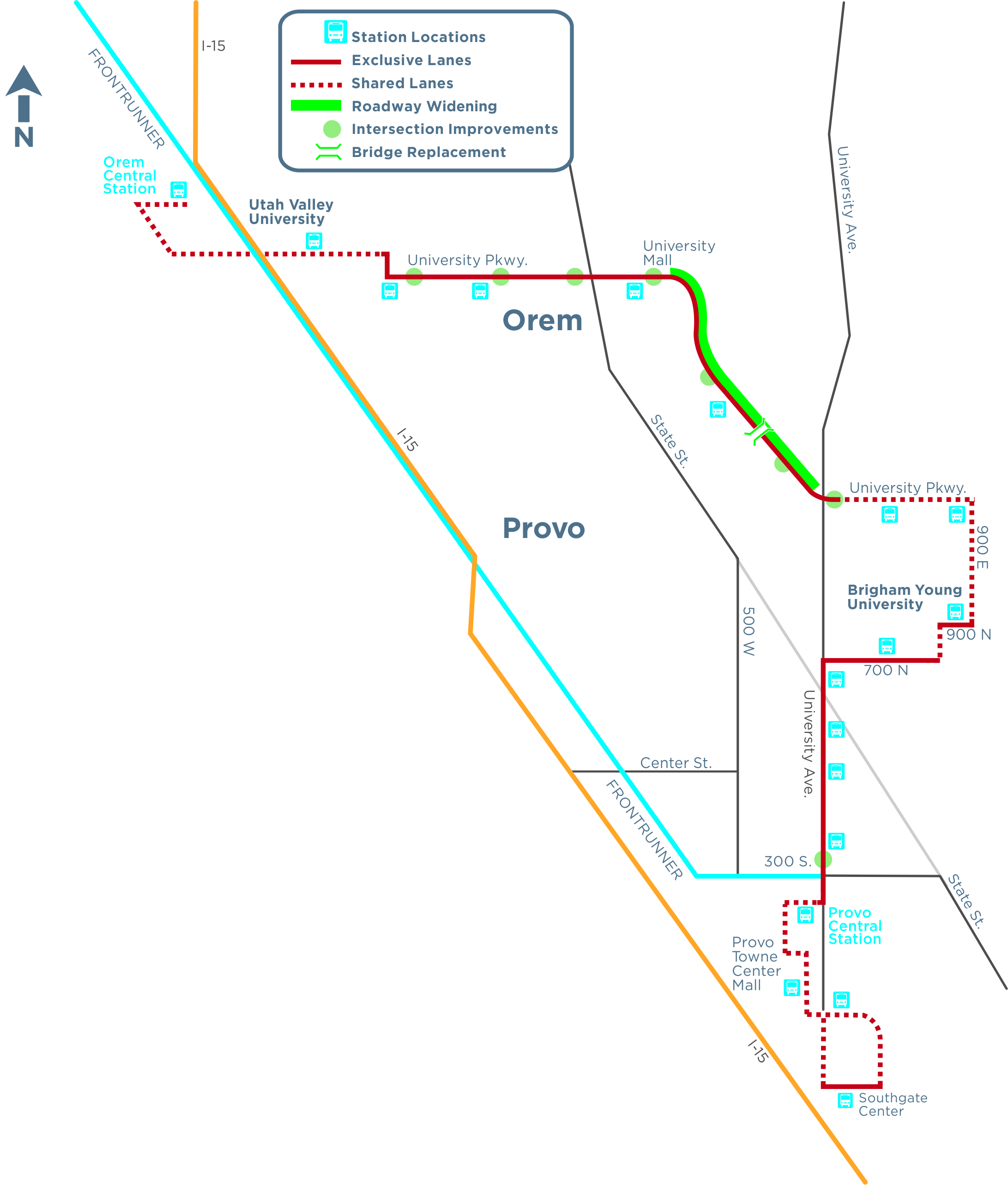 Timeline

Frequently Asked Questions

What is Provo Orem TRIP?
Provo Orem TRIP (Transportation Improvement Project) is a road, transit, bicycle and pedestrian improvement project designed to meet growing transportation needs in Orem and Provo.

Why is the project needed?
Orem and Provo continue to grow in population as families expand and want to stay in the communities where they grew up and as employment opportunities and university enrollment increase. As growth continues, more vehicles, traffic and delays can be expected, unless we wisely plan and build a balanced transportation system that provides multiple options to meet the increasing demand.

What are the project benefits?
The whole community benefits from the project by reducing vehicle trips, supporting the economy and providing transportation choices. Good transit resources like Bus Rapid Transit (BRT) will provide efficient transportation for thousands of university students and employees and customers of major retail centers as well as additional transportation choices for all Provo and Orem residents. The project provides a way for people to connect to two universities, two malls, two LDS temples, the Missionary Training Center, university sporting events and community events such as the July 4 Freedom Festival.

Who is building Provo Orem TRIP?
The project is a partnership between Utah County, UDOT, UTA, Provo and Orem, with funding coming from existing sources.

When will construction occur?
Preliminary utility work started in late July 2016, with major construction activities beginning in fall 2016. Construction will last approximately two years, and the BRT line will be operational in early 2019.

What can I expect during construction?
Construction on some of Provo and Orem's busiest roads will be a challenge, but the project team is committed to minimizing impacts to drivers, businesses, and the streetscape. Access to all businesses along the project corridor will be maintained during construction. Lane closures will occur at night to help keep traffic moving during the day and help people get to and from local businesses. Mitigation plans are being put in place to handle construction issues like noise and dust and potential changes to landscaping, parking and local events.

What is BRT (Bus Rapid Transit)?
BRT works just like TRAX, with stations, frequent service every five to ten minutes, and pre-paid ticketing, except it runs on a road instead of a rail.

What is the route for the new BRT line?
BRT will run from the Orem Frontrunner station, east on University Parkway, around BYU on 900 East and 700 North and down University Avenue to the Provo FrontRunner Station.